News 2012  
More news on our Facebook page
December 30th, 2012
Indhira is #2 Top Afghan bitch of the year (BAHC system) and #3 Top Afghan dogs & bitches mixed !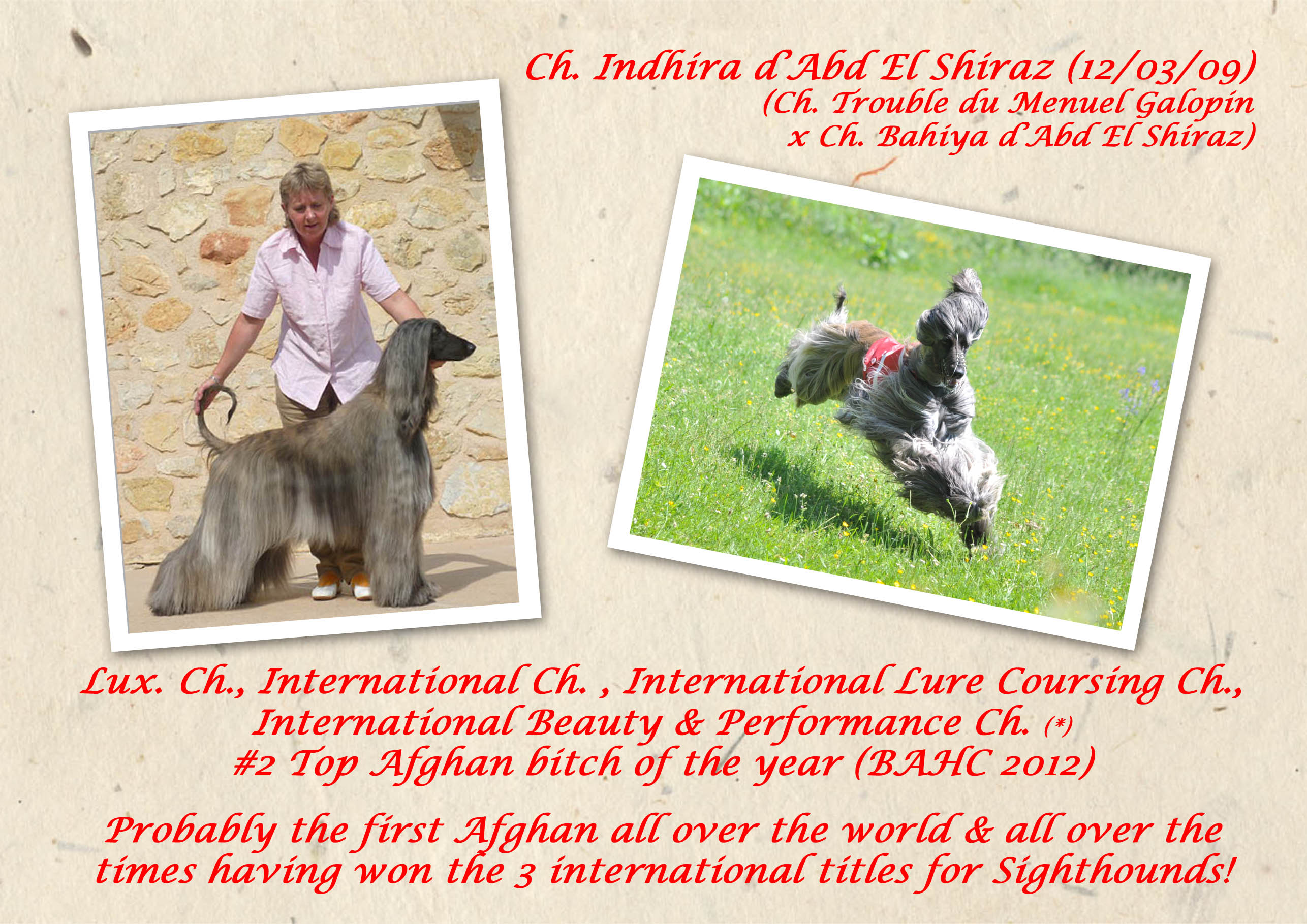 December 24th, 2012
Indhira is officially International Champion, I just received the certificate today !
We are now waiting for the certificate of International Beauty & Performance title.
December 12th, 2012
Favi is 3 years old today !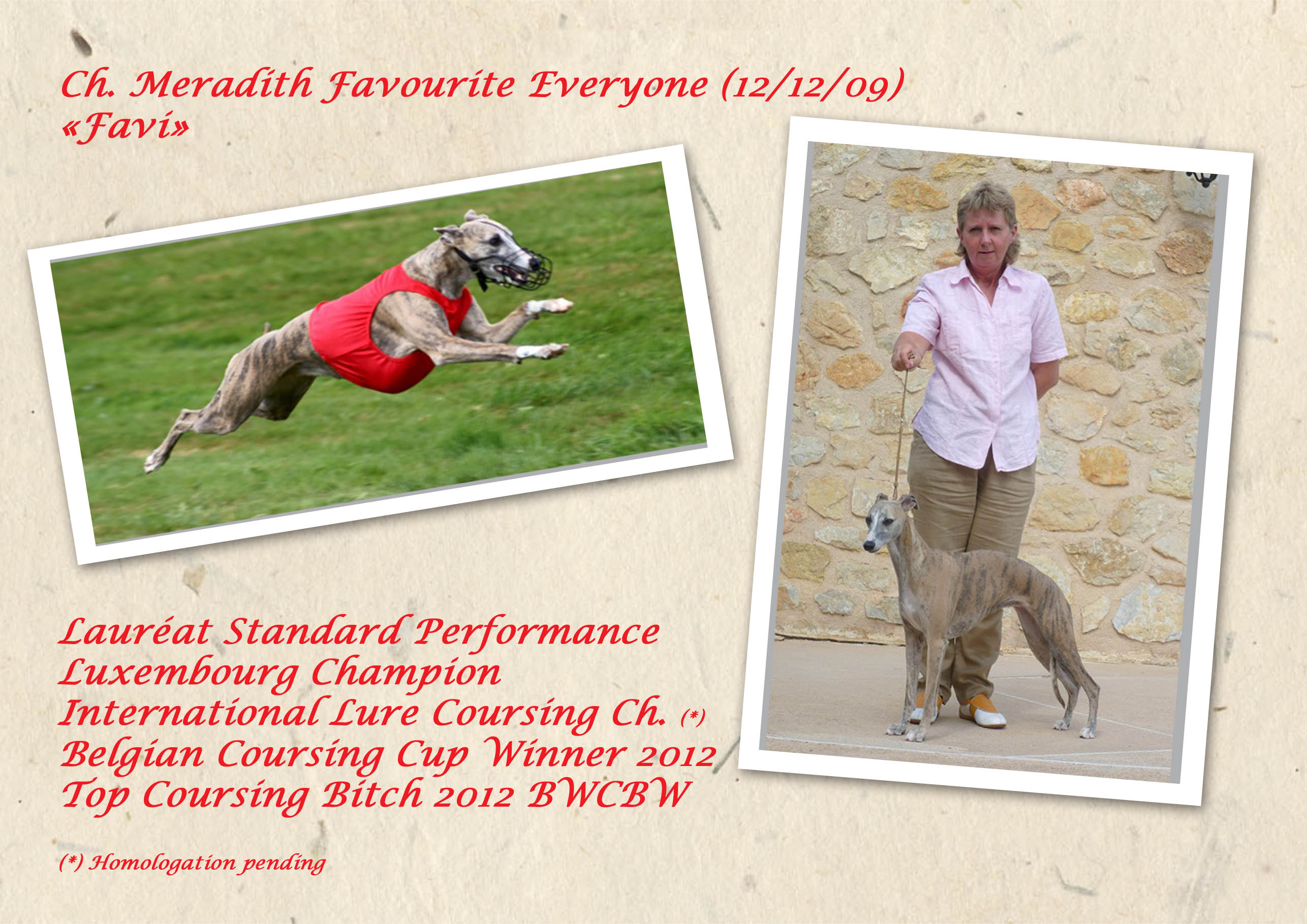 December 08th, 2012
Indhira & Favi at Brussels Dog Show, last show of the year. See Shows page.
December 06th, 2012
Our sweet Bahiya is 10 years old today ♥
November 21th, 2012
Intajeriko has his own page. Click on his name.
November 17th & 18th, 2012
Indhira & Favi at Eurodogshow Courtrai. See Shows page.
November 10th & 11th, 2012
Champagne is back! This weekend, at the last international lure coursing competition of the year in Merksplas our Favi (Ch. Meradith Favourite Everyone), ends beautifully her fantastic lure coursing season, finishing 2nd/15 RCACBL-RCACIL. Allowing her to finish her INTERNATIONAL LURE COURSING CHAMPIONSHIP, with 3 CACIL and 2 RCACIL in less than 17 months before the age of 3 years. She also won the 2012 BELGIAN CUP being the Best Whippet bitch of the year.
In Afghans, the good surprise of the day came from IntaJeriko, which ranks him as 2nd/12 RCACBL-RCACIL and ended his first season as the second tie of the Belgian Cup. Indhira, three weeks after her injury, finished only 12th/20 despite two good races. She is ranked 4thIndhira in the Belgian Cup.
All three are of course qualified for the next European Championship !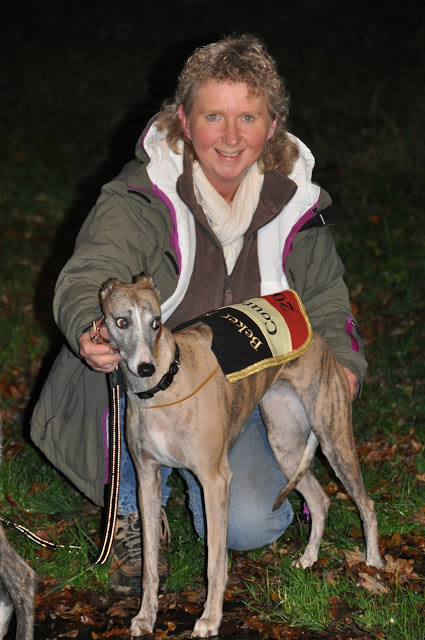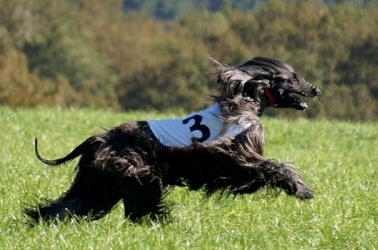 "Favi"                                                                                                                           IntaJeriko
October 28th, 2012
Another showday lost in Leuven. See Shows pages.
October 21th, 2012
Today, lure coursing GPX (Belgian Grand Prix) in St Pieters Rode. As Indhira was unfortunately injured 3 days ago (nail ripped, completely removed by the vet, 4-6 weeks of rest for her) Favi was alone to participate. She finished #4 (3rd score but less good second round than the ex-aequo bitch). A good result even if I think that she could (should) have more points on the first round.
In Afghans, Jeriko was alone to represent the AES family, he was placed #5. Thanks for coming, Jeanine & Rick !
October 07th, 2012
Lost day in Charleroi. See Shows page.
September 30th, 2012
Great week-end again at the National Lure Coursing in Amermont, a ground highly selective for complete sighthounds, where Favi continued on the rush of her incredible workink season, winning her 3rd belgian competition in a row, with CACBL and the second best score of the week-end over all races with 357 pts, and only 1 pt behind her daddy "Multi Ch. Koseilata's Dust on the Moon", best Whippet dog, CACBL, best score of the week-end (358 pts).
For her part, Indhira, realizes a fantastic second round (best Afghan round in the day), but is finally placed #4, due to a medium score in the morning. Her brother, IntaJeriko, is #5. A beautiful week-end, in a great atmospher, and, for the first time in Amermont, under a superb weather !
September 16th, 2012
Back home from National Lure Coursing in Vien, and again a fantastic day for the girls. Indeed, Super-Favi has struck again! Our small Whippet Favi (Meradith Favourite Everyone) won the race handily with CACBL and the best score of the day, over all races (82 entries). For her part, Indhira, in mixed Afghans, is placed second and RCACBL, just 1pt behind the male ranked 1st (a typical racing dog with fur almost nonexistent). And her brother, IntaJeriko, is placed 3rd, it was only his second race. Congratulations Rick and Jeanine !! The only disappointment came from Indiana who stopped halfway and was not allowed to run the 2nd round, but then she just finished her seasons.
And therefore, once again: champagne !!!
 
September 7th, 2012
We We are so proud of our big girl !
A few days after finishing her INTERNATIONAL CHAMPIONSHIP last weeK-end in Macon international show, Indhira is officially INTERNATIONAL WORKING CHAMPION (Lure coursing), we received the FCI certificate yesterday !
Many Afghans are international champions, some Afghans are international working champions, but I do not know many who have managed to get those two international titles, knowing moreover, that Indhira is only 3 1/2 years old !!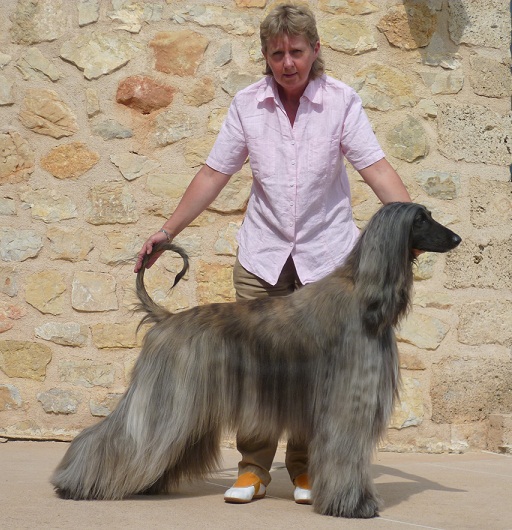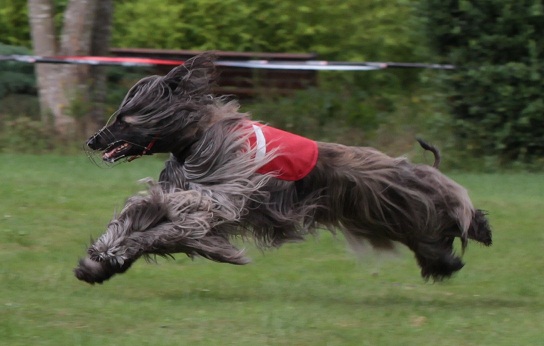 September 1st, 2012
A new title in the pocket for Indhira. See Shows page.
August 26th, 2012
Today it was the French Lure Coursing Championship in Belfort. We were so proud that our 2 girls were qualified, and Favi was even the first one of the bitches. She was finally 8th Exc/26 (in first race, she was opposed to the future winner, made a small fault and received 21pts, the second race was better with 24 pts).
But, like last year, the disappointment came with Indhira's quotations. After the first race, she was one of the five best with 23 pts. And like last year, in second race, she received the worst quote of the day (19 pts !!) although she did a race without fault (the other one took a wrong turn at the start) and altough she touched the lure in first.
Just the impression of having been stolen for the second time in a row....

August 20th, 2012
Favi is officially  Luxembourg Champion, we just received the certificate today.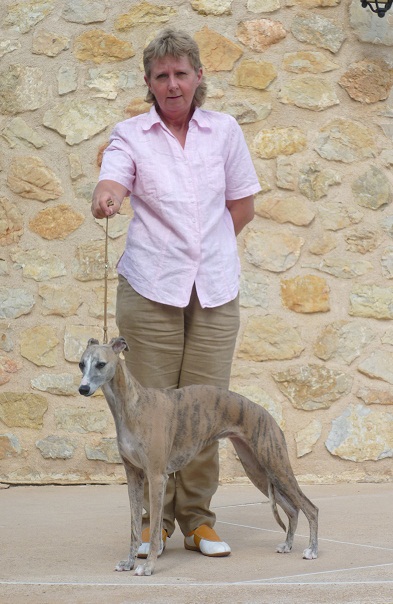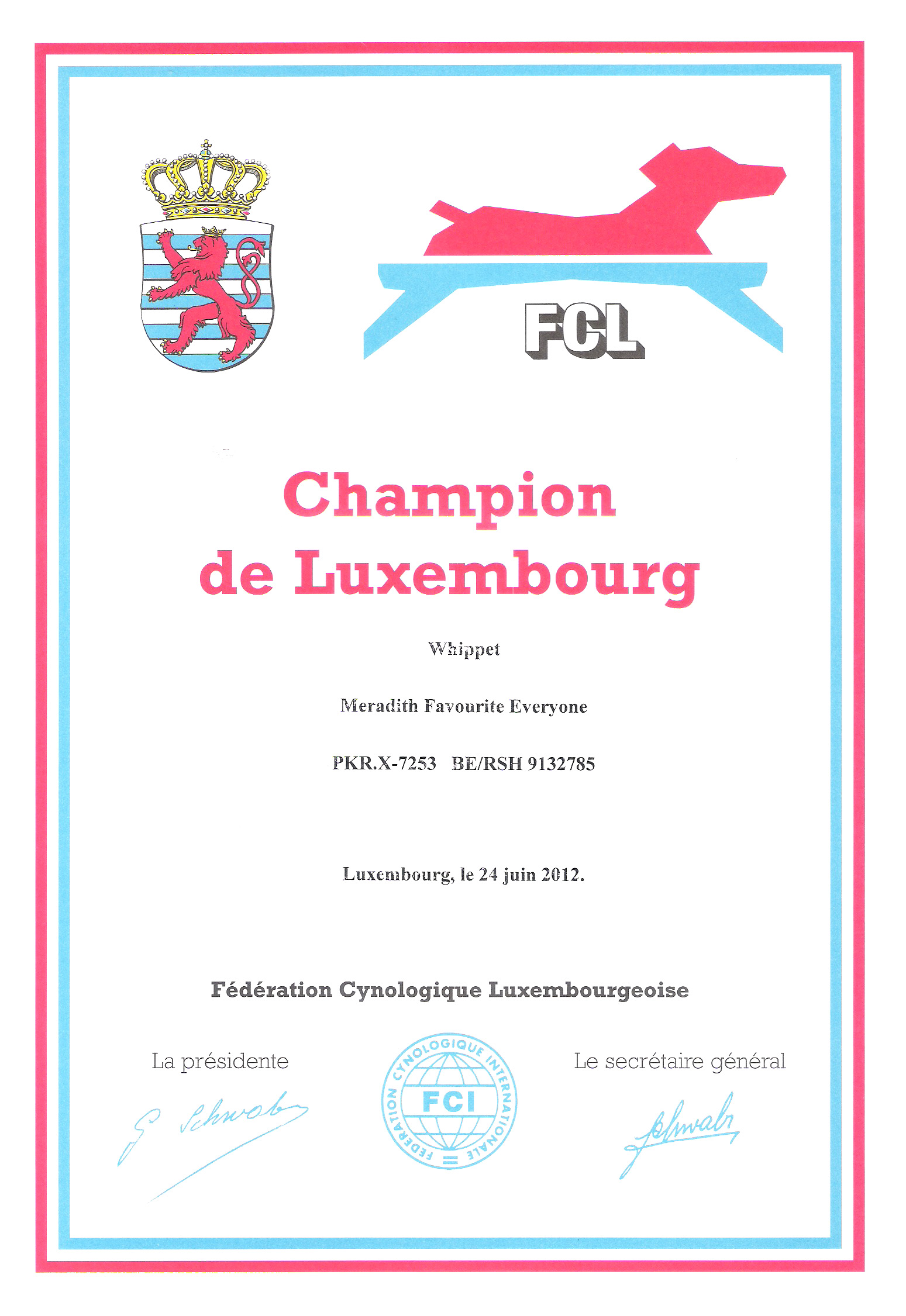 August 12th, 2012
Not exciting results at the Afghan Belgian Hound Club Specialty. See Shows page.
August 6th, 2012
Indhira and Favi are both qualified for the Lure Coursing French Championship at the end of August ! 
http://cnulev.free.fr/sel-2012-chpvl.pdf
July, 22th 2012
Another great show day for Favi. See Shows Page.
June, 24th 2012
First standard conformance title for Favi. See Shows Page.
May, 26th & 27th, 2012
A great week-end again for the girls. A dream came true: this Saturday 26/05, at the international lure coursing competition near the beautiful castle of Paray Le Frésyl (F), Indhira won her 4th CACIL, 1 year and 5 days after the 1st one, and becomes INTERNATIONAL LURE COURSING CHAMPION. On Sunday Favi was placed 4th/14 with the RCACIL.
And then, this week-end again: champagne !!!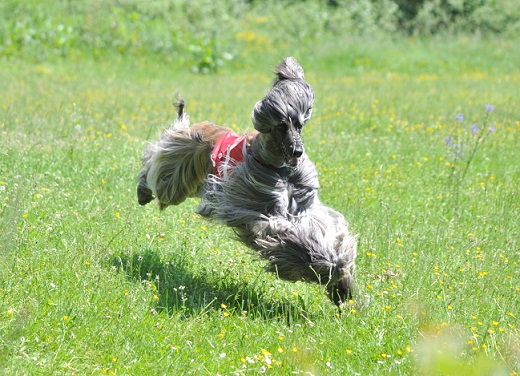 Photo Mikael Szabelski
May, 19th, 2012
What incredible period for our girls ! This Saturday, international lure coursing competition in Barvaux (B). For the first time, 3 "I"kids were entered in the same working competition. IntaJeriko, for his first participation, finished 5th in dogs, Indiana was 9th in bitches, and Indhira, 5th, received her 3rd CACIL unfortunatly ONE day too early to finish her International lure coursing championship. And the cherry on the cake, was once again with super-Favi, she finished 1st-CACBL-Best Whippet and Golden Sighthound ! And yes, champagne has flowed again !!
May, 18th, 2012
Icyana at the World Dog Show in Salzburg. See Shows Page.
May, 17th, 2012
Indhira and Favi at the Belgian Royal Sighthound Specialty Show. See Shows page.
May, 12th & 13rd, 2012
Another great week-end for Indhira and Favi at the internationl dog show in St Gallen (CH). See Shows page.
May, 5th & 6th, 2012
This was the French National Specialty that week-end in Parigné-l'Evêque (near Le Mans). On Saturday, our little Favi received an Excellent from Mrs Jacoby-Wright (famous Cobyco kennel) in a strong working class of 13 entries. 
And on Sunday, the "Terror of the Grounds" was back ! Favi was placed 2nd Excellent-RCACP / 38 entries in the lure coursing competition. As this competition has value of championchip, we can say that Favi is virtually LURE COURSING FRENCH VICE-CHAMPION !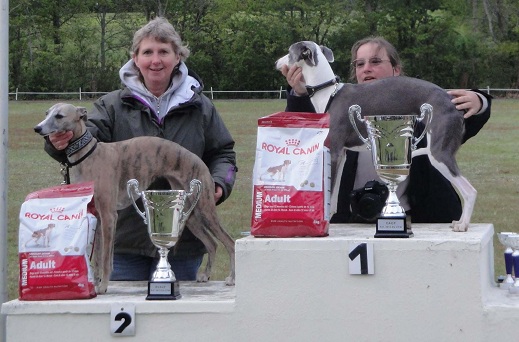 April, 30th, 2012
Just coming home from International Lure Coursing competition of Belfort (F).
In Afghans, in Indhira 's first round, her teammate stopped in the first straight line. Indhira continued on her own, and as often in those situations, she received a low quotation which she had no chance of a good final result. But, well, as she was in season 2 months ago, I knew she was really not fit. She is finally placed 7th/10, normal result in the circumstances.
Her sister Ismaïlia was placed 9th, despite 2 correct races, but probably not fast enough (she was also few days after seasons).
But the most strange result was Favi's one. With an excellent first round, she was placed 5th tie in the morning. In the second round, she was on par with her teammate for two-thirds of the circuit, until the other bitch hit her (by clumsiness) in one of the last turns. Favi was shocked for a split second but continued almost immediately, obviously without being able to catch up with the other.
The results were announced: the "striker" bitch got for that race a quotation near perfection: 195/200 (the best result of the day on 1 race, dogs & bitches together, first run and second run together), and Favi received a poor 179, the 5th worse quotation of the day !!  Favi is heavily penalized for a foul which she is the victim and not the author, and the other one is finally rewarded for his clumsiness... Favi is finally placed 13rd/20.
I do not usually give such details in my news, but , well, this time I'm having some trouble understanding ...
Besides that, we had an excellent weekend with nice people and good friends, the dogs had fun and were not injured.
And we had the joy to appear this morning on the front page of the local daily newspaper "L'Est Républicain" !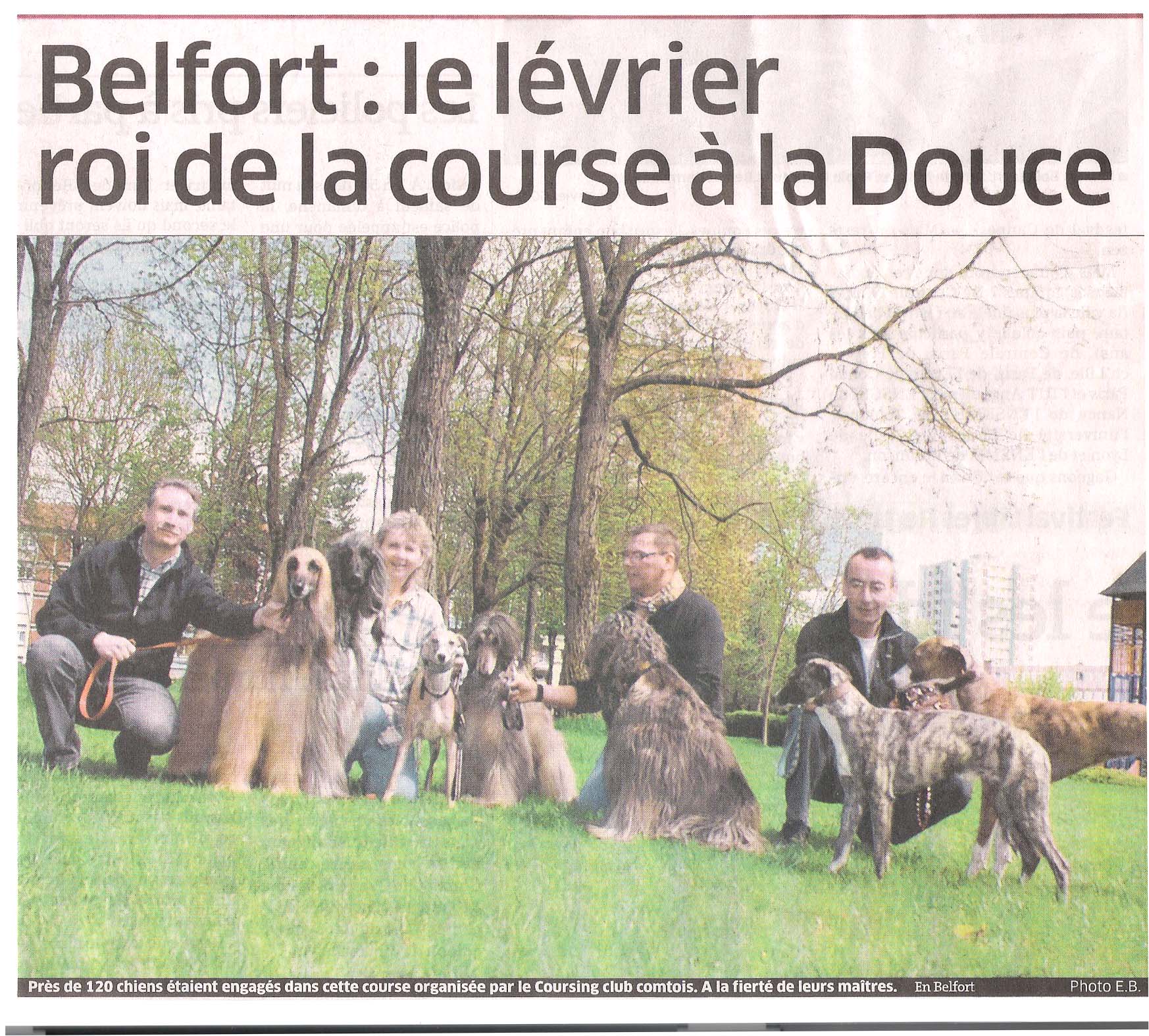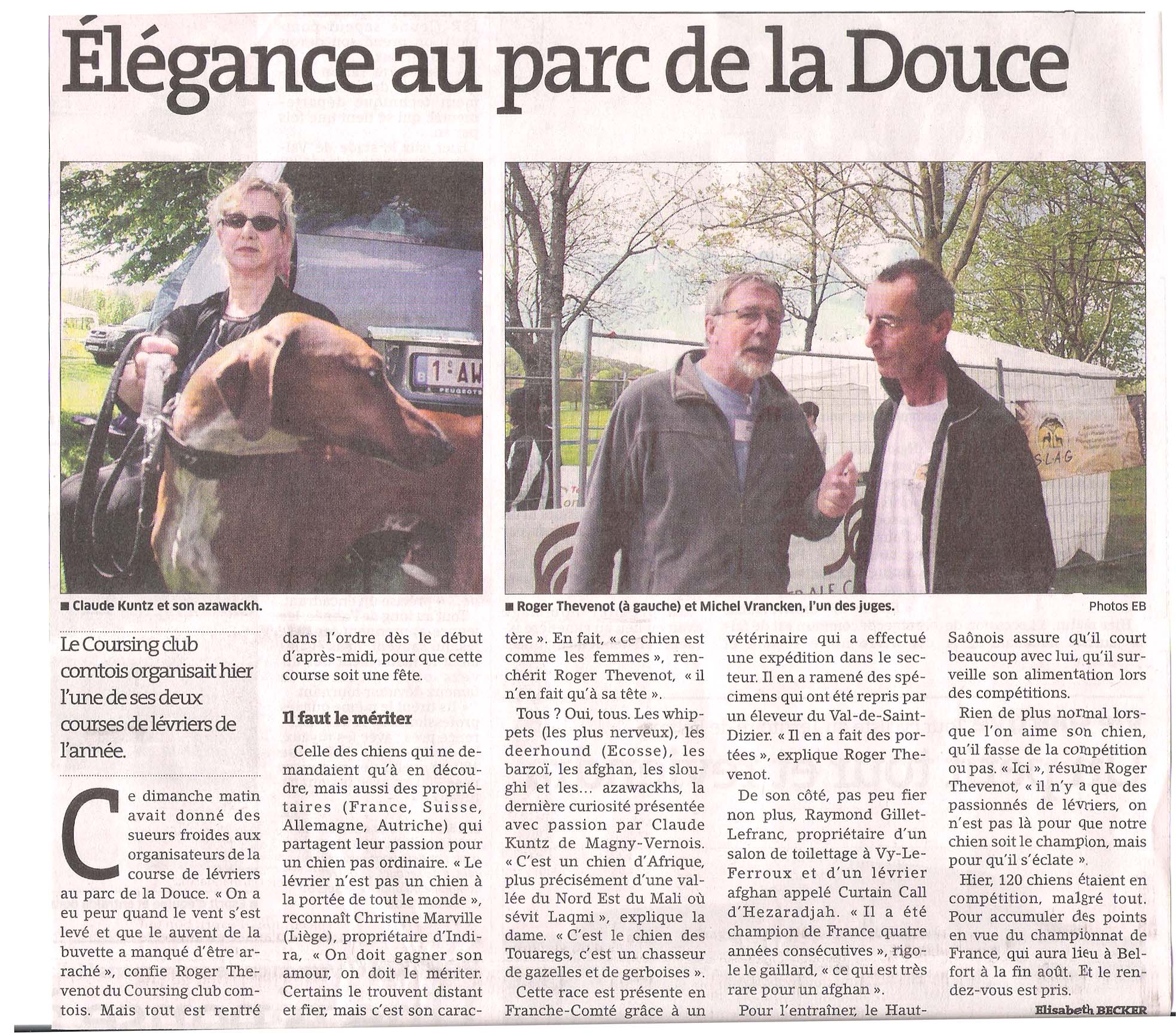 April, 30th, 2012
Icyana in Italy at the AIALA Specialty. See Shows Page.
April, 26th, 2012
Some new pictures of Ismaïlia :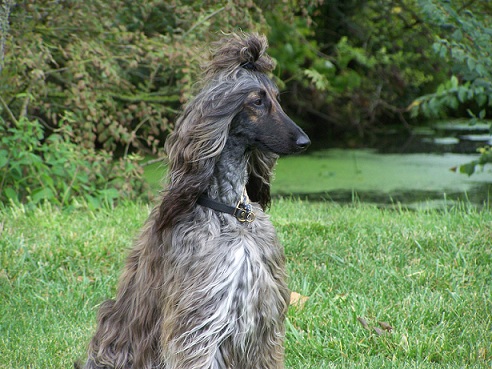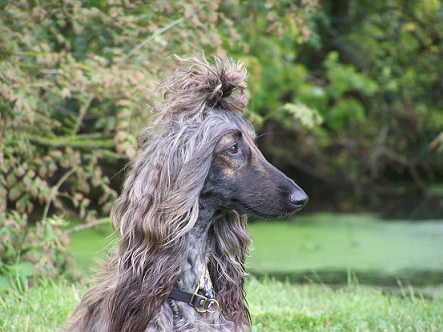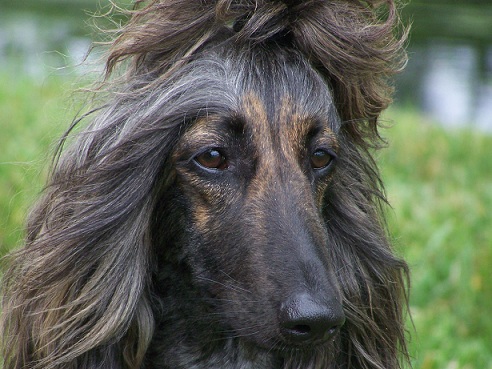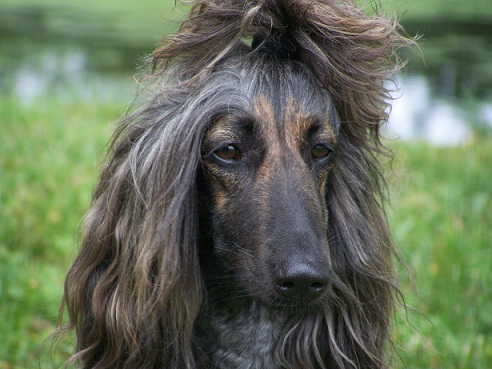 April, 21th, 2012
Indhira and brother IntaJeriko made today 2 "good races" on the racing track, in Awans, to get their offical racing licence.
Their sparring partner was their mother Bahiya, despite her 9 1/2 years old, she was still motivated and full of ardor.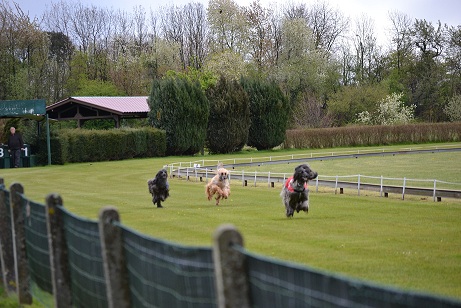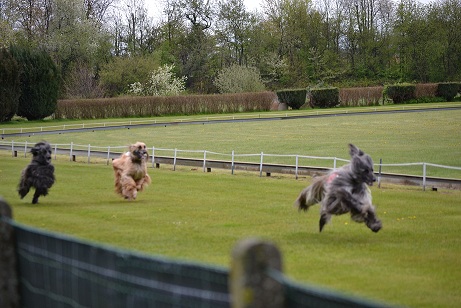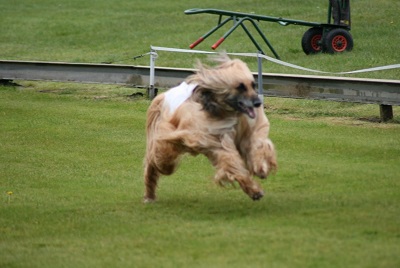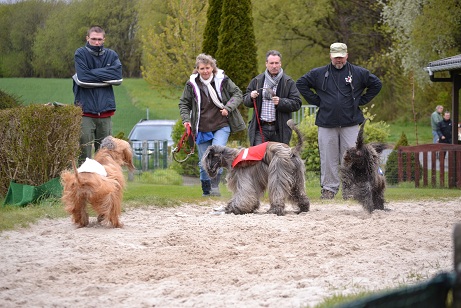 More pictures on our Facebook account: www.facebook.com - Abd El Shiraz Afghans
April, 14th & 15th, 2012
Very good performance of the girls at the Brabo Show and French National Specialty. See Shows page. 
April, 7th, 2012
Sad news today. Our lovely Virginia crossed the rainbow bridge, she would have turned 15 years in 2 weeks.
You'll stay forever in my heart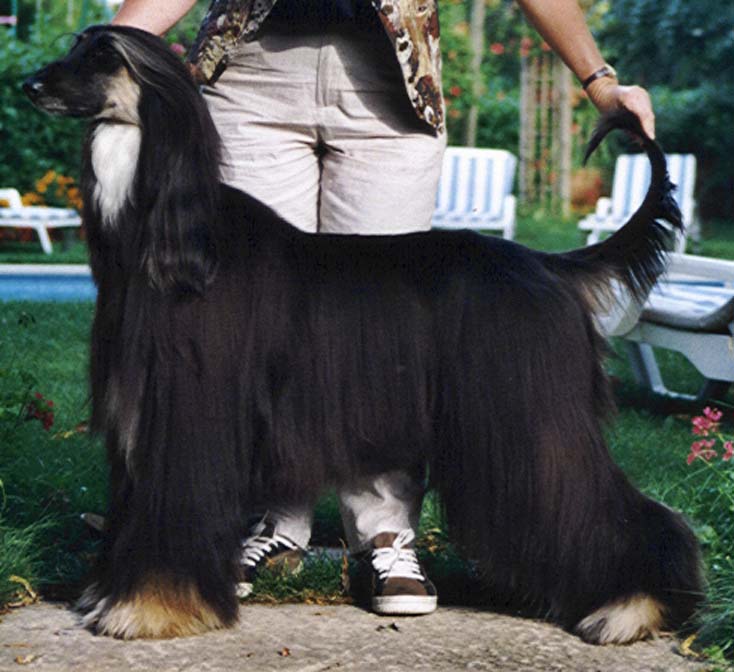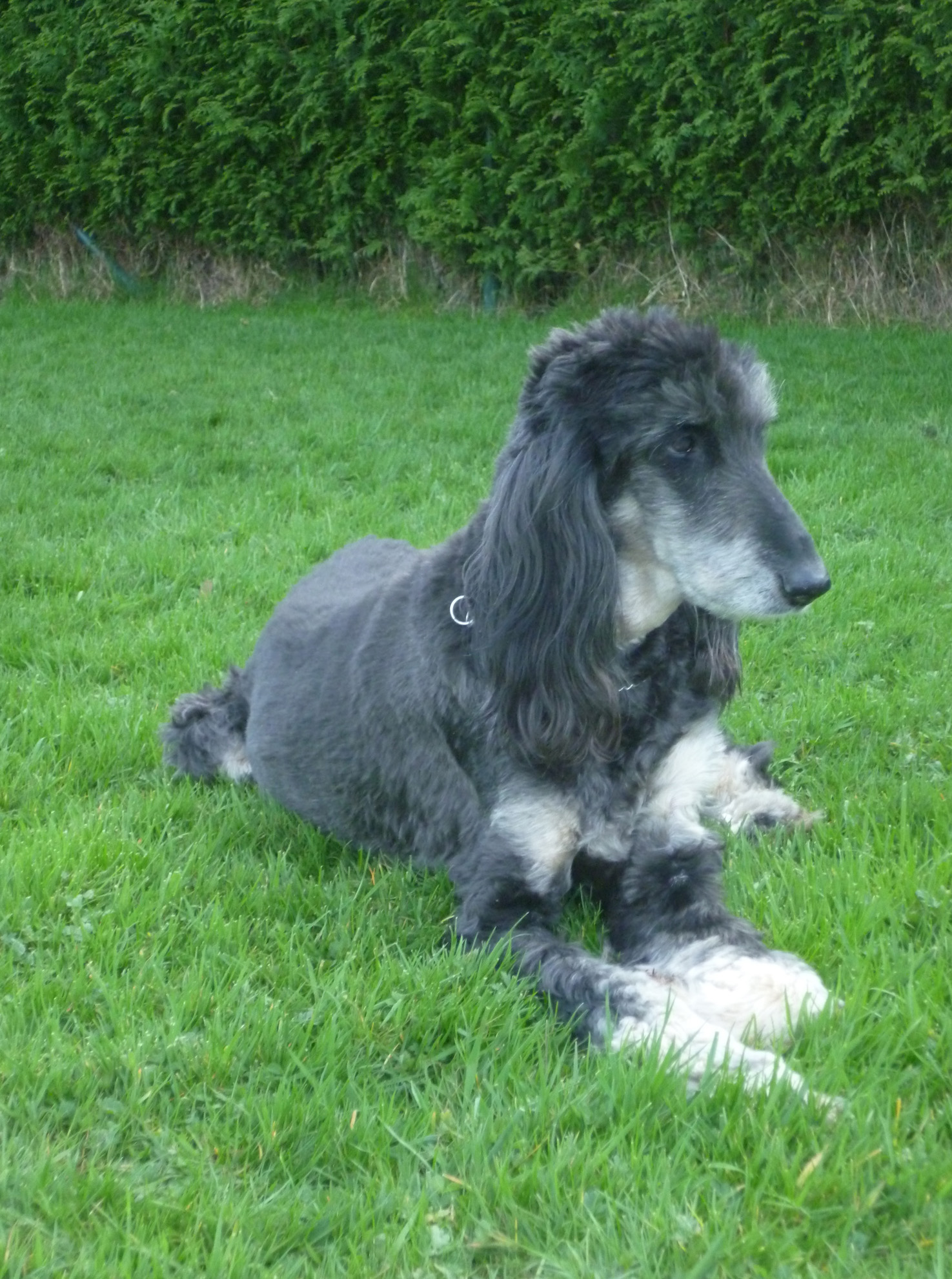 Ch. B., L., D. VIRGINIA d'Abd El Shiraz 24-04-1997 - 07-04-2012
April, 1st, 2012
Indhira and Indiana participated at the International lure coursing competition in Amel (B). Indhira, despite 2 very good races (in my opinion) was placed 6th/7 with the RCACIL.
Indiana, unfortunately, as she is still a beginner, didn't finish her second run, and got the last place.
Marsh, 31th, 2012
Indhira and Favi at the internationl dog show in Luxembourg. See Shows page.
Marsh, 24th & 25th, 2012
Great week-end again for Icyana in Italy. See Shows page.
On Sunday, returning to working competition for Indhira and Favi, and a first trial for Indiana during the first belgian coursing of the year in Vien.
Indhira was placed 4th/6, Indiana 6th/6 (because of a first round unfinished, but a very good second round), and Favi was 8th/15. Not so wonderful results, but a good behavior of the girls after a long winter, a "sleazy" weight gain, and only little training, (and regarding the fact that Indhira just finished her seasons, and Favi just started her own Sunday evening !).
 
Marsh, 12th, 2012
12/03/2009-12/03/2012: the "I" kids are 3 years old today !!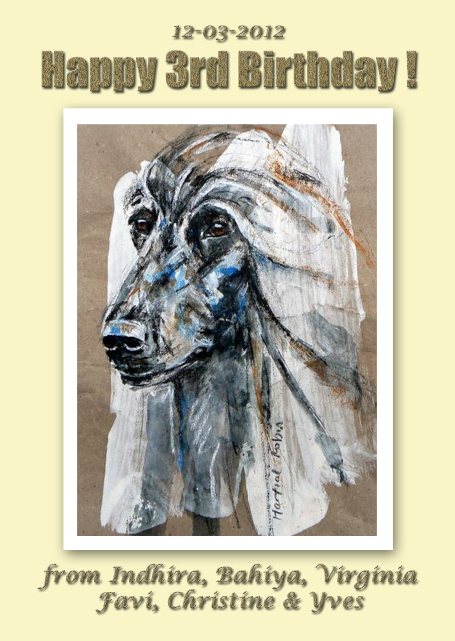 The 4 fantastic "I" girls: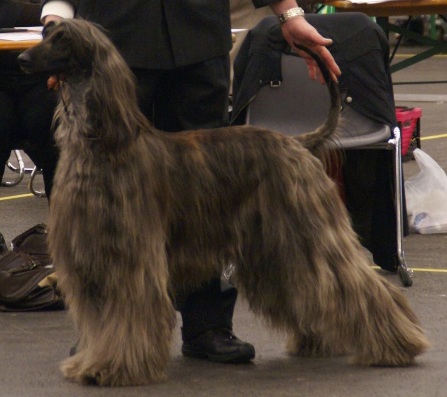 Multi CAC & CACIB winner, Swiss Junior Champion, Swiss Champion, International Champion: Icyana d'Abd El Shiraz (proudly owned & loved by Fabienne & Claude Berset - Lausanne - CH)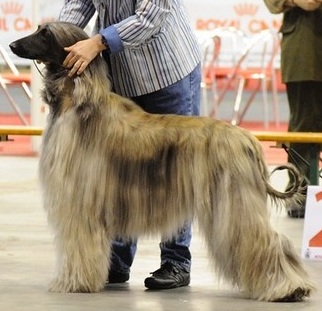 Multi CAC & CACIB winner, Luxembourg Champion, multi lure-coursing CACIL winner: Indhira d'Abd El Shiraz (Abd El Shiraz home)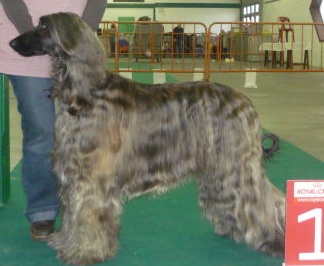 (R)CAC-(R)CACIB winner: Indiana d'Abd El Shiraz (proudly  owned and loved by Florence Dewit & family - Aywaille - B)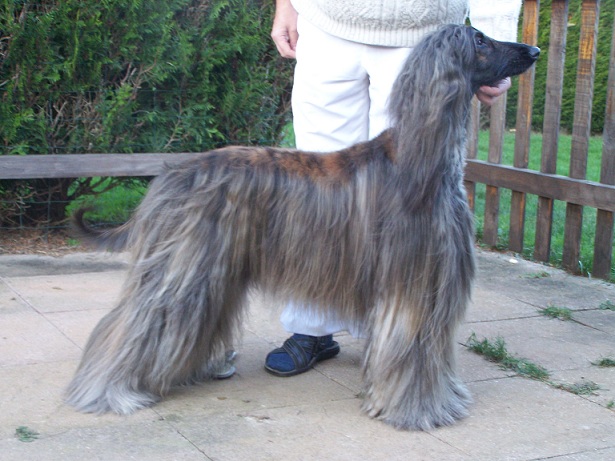 RCAC-RCACIB winner: Ismaïlia  d'Abd El Shiraz (proudly owned and loved by Christophe and Raymond Lefranc-Gillet - F)
and not shown but truly loved also by their families, the "I" boys:
Inta Jeriko d'Abd El shiraz (Jeannine & Rick) , Istaphar d'Abd El Shiraz (Roger & Lydia).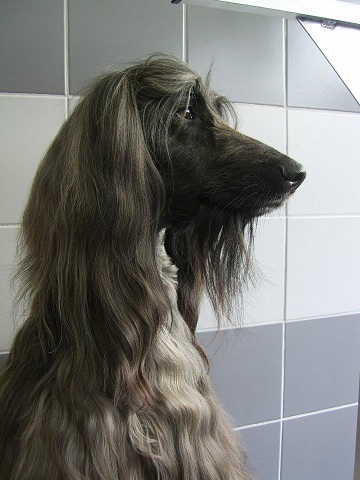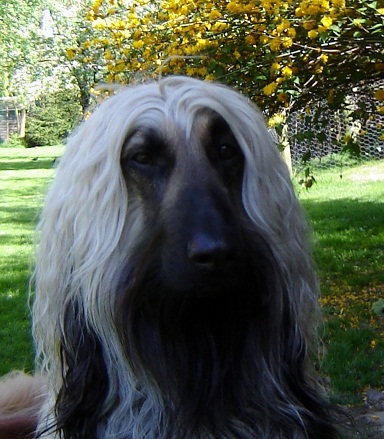 Thank you very much, friends, for taking so good care of our kids ♥
Marsh, 04th, 2012
Bahiya was entered at the Junior & Veteran Day in Geer. See Shows page.
February, 25th & 26th, 2012
Exciting week-end for Indhira, Favi and Icyana in Fribourg (CH). See Shows page. 
February, 12th, 2012
Indhira and Favi in Genk. Icyana in Biella (I). See Shows page.
January, 29th, 2012
Indhira, Indiana and Favi in Mouscron. See Shows page.
January, 16th, 2012
New pictures of Ismaïlia ♥. Thank you very much, Raymond !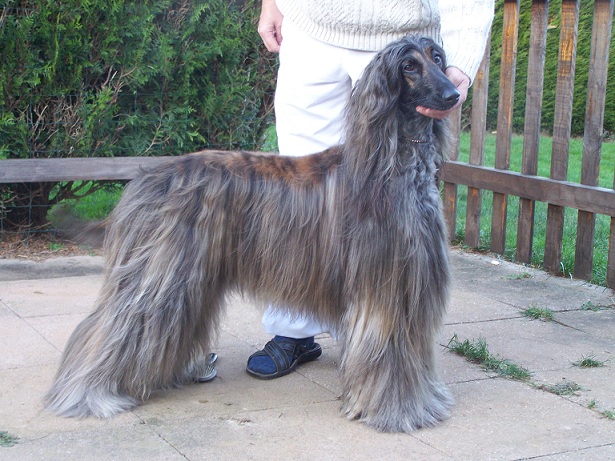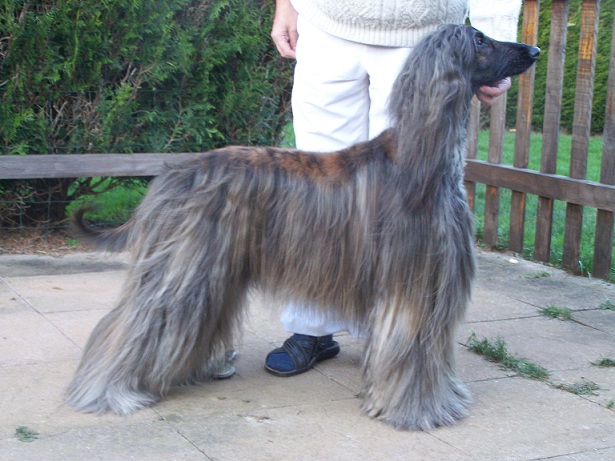 January, 15th, 2012
Icyana at the international dog show in Milano. See Shows page
January, 13th, 2012
Ismaïlia & Indiana have their own page.
January, 07th, 2012
Indhira, Indiana and Favi in Hoogstraten. See Shows page.