Whippets
"ORIANA d'Abd El Shiraz"
On April, 03rd, 2015, was born our first Whippet litter at Abd El Shiraz. They were 4 puppies, 1 boy, 3 girls. Their mother is our FAVI, and father is Multi Ch. Jilson du Clos d'Orffeng.
"OBAMA d'Abd El Shiraz"
Brother of Oriana, he lives with his father in France, with Solange DUVAL.
He started very well his show career, with 2 Best Baby and one Best in Show Baby !
"ONE SALSA d'Abd El Shiraz"
Sister of Oriana, she lives Geneviève Massinon, in Belgium.
She started also very well her show career, with 1st Very Promising in Puppy Class the day of her 6 months!
"FAVI"
On March, 28th, 2010, a pretty little whippet girl joined the family.
Her Name is MERADITH FAVOURITE EVERYONE "Favi". She was born on 12-12-2009 in Poland.
She is a daughter of Multi Ch. Koseilata's Dust on the Moon and Multi Ch. Meradith Kolejna Gwiazda.
She has a great carreer in show and lure coursing. She is currently Luxembourg Champion, Swiss Champion, International Lure Coursing Champion, International Beauty & Performance Champion, Belgian Lure Coursing Champion, French Lure Coursing Champion, Belgian Cup Winner 2012 & 2013, GPX Winner 2013, French Lauréat Standard Performance !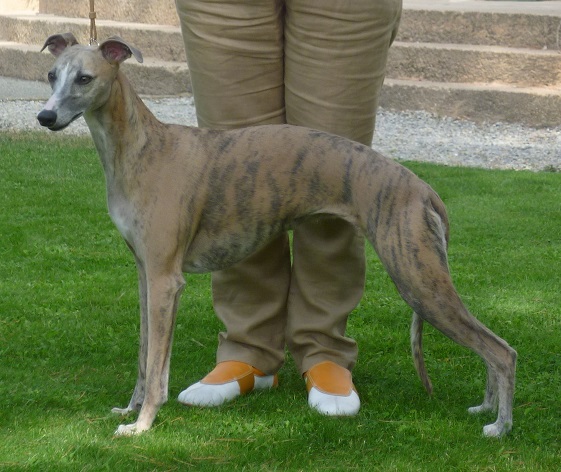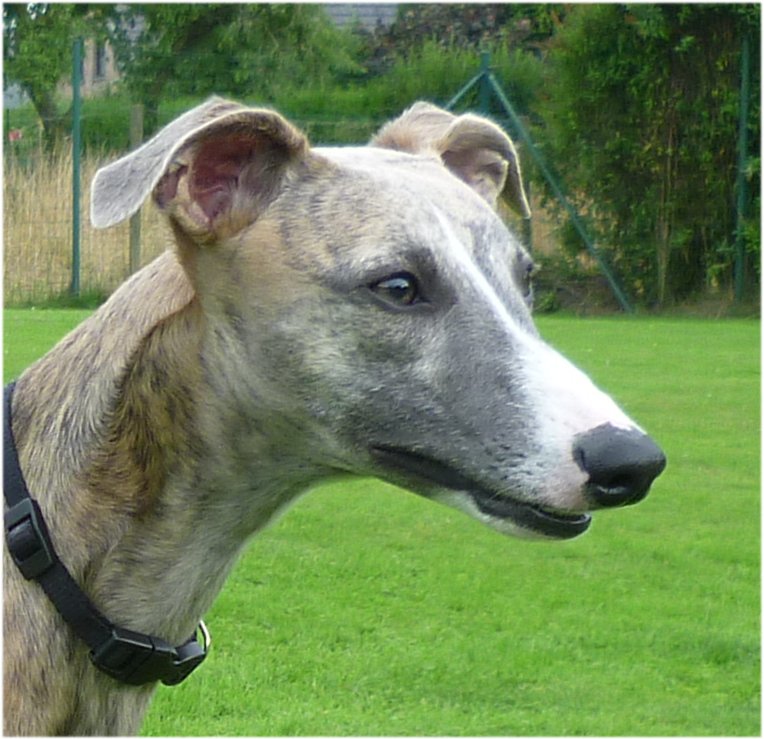 "MIKE"
Since September 2002, we were proud owners of our first Whippet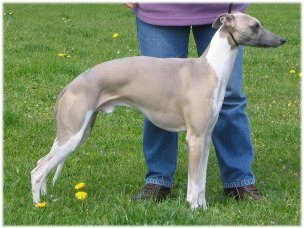 Ch. HUNTING FREE BEACHBOY "Mike"
(Ch. Lord Lionheart d'Harcourt x Suger 'n Spice Ubriska)
Born on 12-05-2002, he died of an unpleasant fall while he had fun to run with our other dogs on 18th, september 2010. 

Mike was champion of Germany-VDH and Luxembourg, he needed only one CACIB in a foreign country to finish his International title and one CAC in Belgium to finish national title.
He was also an excellent working dog, placed a lot of time in national and international lure coursing competions (CACIL, RCACIL, RCACP winner).
We participated also in racing competition in our club.
Mike was ADN tested (ISAG 2006), but, unfortunately, did not have a descent. 
See Mike's pedigree under pics.
All informations about Mike's kennel, click on the link :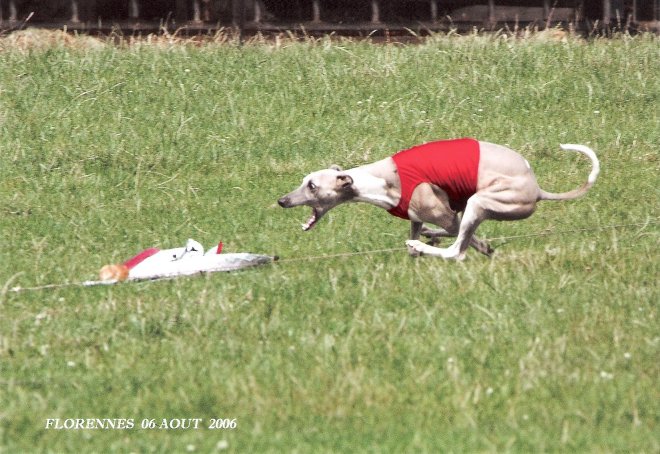 CH. LORD LIONHEART D'HARCOURT

GASPARD X.R. DE CHAMBORD

CH.  SUNSALVE
HEATWAVE AT HUTAKA

CH. CARMODIAN TAWNY KNIGHT OF HUTAKA

CH. BLACK KNIGHT OF CARMODIAN

ALLGARTH COUNTESS PENELOPE

LOWGLEN SONGBIRD

CH. OAKBARK MIDDLEMAN

CH. LOWGLEN SINGING BEDE

CH. CYGNE
X.R. DE CHAMBORD

CH. NEVEDITH PAPER WEIGHT

NEVEDITH MERRY MONARCH

WHITBARROW MINIMIST

EOLYNE'S BAMBY BLUE

EOLYNE'S VELVET BUTTERFLY

CH. SQUAW VALLEY DE L'ORME SEC

IDRILL

 

X.R.
DE CHAMBORD

CH. CID
X.R. DE CHAMBORD

DONDELAYO FALL GUY

COURTHILL THE COMEDIAN

DONDELAYO SHAPARELLE

URGANDE DE GRILLEMONT

CH. ALMAGLO FOREMAN

CH. LA PERLE DE GRILLEMONT

GIVENCHY-LOWE
X.R. DE CHAMBORD

CH. SUNSALVE HEATWAVE AT HUTAKA

CH. CARMODIAN TAWNY KNIGHT OF HUTAKA

LOWGLEN SONGBIRD

CH. CYGNE XR DE CHAMBORD

CH. NEVEDITH PAPER WEIGHT

EOLYNE'S BAMBY BLUE

SUGAR 'N SPICE UBRISKA

CH. BRIARY
SEAMIST

CH. VALANTINO'S QUORUM

VALENTINO'S ODILON

MAGADHA LESTER

MAGADHA LADY GREY

MAGADHA MISS-JONES

CH. NOBLESSE OBLIGE OF HERLAERS TOWN

MAGADHA INDIANA MOON

BRIARY
NON-NONENSE

JOAS DU QUINSANT

WERALDA'S GIPSY

SHALFLEET SEQUILL

CH. SYLVAN DWELLING'S LUCIENNE

CH. DONDELAYO PAINT TIN

SHALFLEET SYLVINE

BRIARY NACRE

JOAS DU QUINSANT

WERALDA'S GIPSY

NOUS NOUS OF NEVEDITH

CALICO VD FAKIHOME

SHALFLEET SEQUILL

CH. SHALFLEET SILENT WISH

CH. SHALFLEET SEQUILLA

CH. SYLVAN DWELLINGS

 

LUCIENNE
CH. DONDELAYO
PAINT TIN

CH. DONDELAYO BUCKAROO

MISS MERCURY

SHALFLEET SYLVINE

SELBROOK BRANDY OF SHALFLEET

SHALFLEET SYLPHIDE