News 2016  
More news on our Facebook page
December, 25th, 2016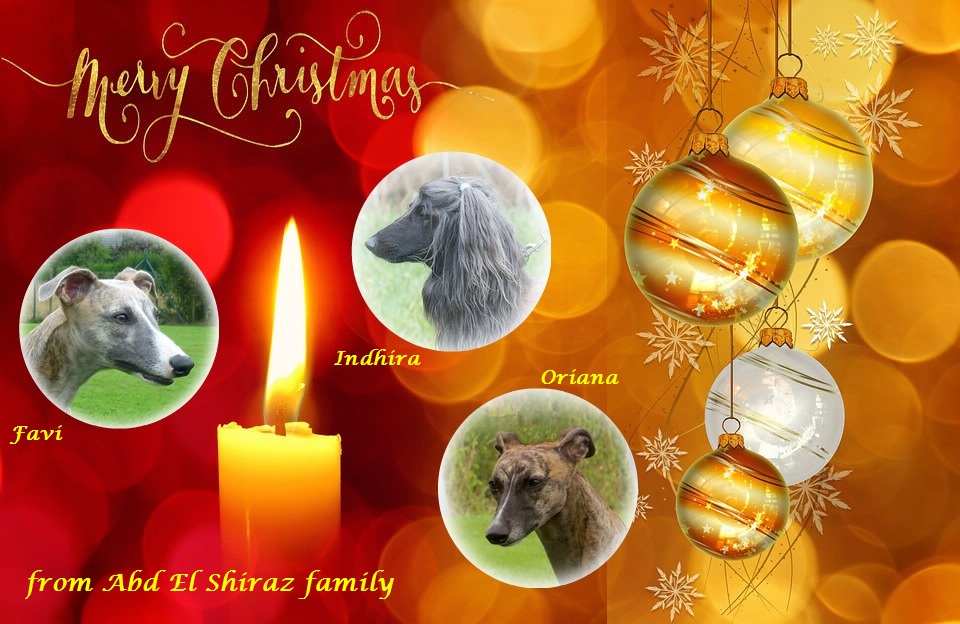 December, 12th, 2016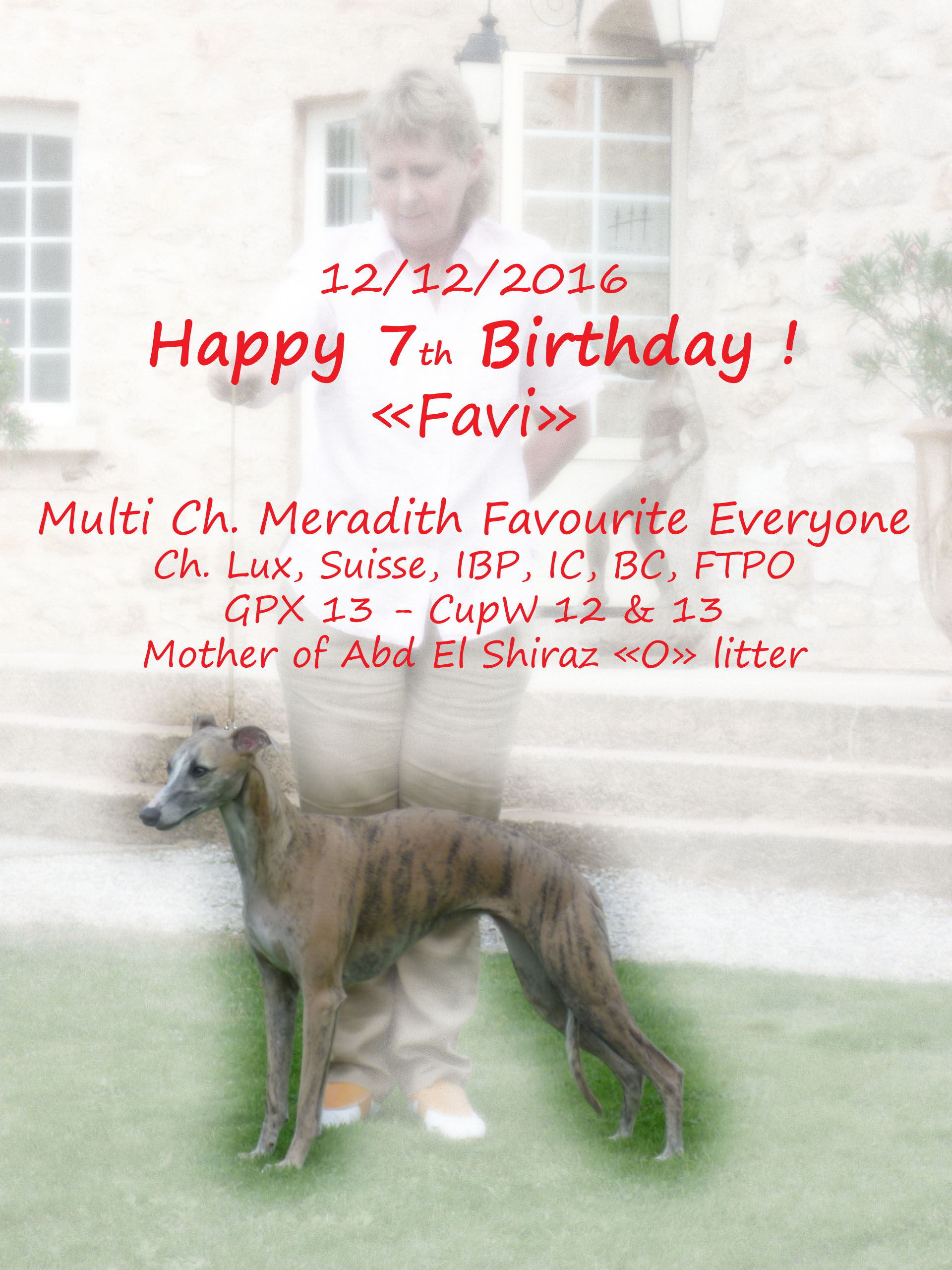 November, 13th, 2016
Last coursing of the year organized by the KVW in Weelde. A beautiful ground that could have been much better exploited and a very cold weather (the t° did not exceed 5° !).
Another excellent result for Oriana who finished 5th out of 21 bitches and 1st Belgian bitch (note that the first 3 ranked are bitches from the kennel of the 2 judges ...).
Favi, still in delicacy with his fingers since her double injury in Amermont, is placed 11th.
However, she remains 2nd in the Belgian Cup 2016. Oriana ranks 3rd tied (5 bitches at 16 pts) with only 3 races.
Here are a few months of well-deserved rest.
September, 24th, 2016
An excellent result again for our "beginner" Oriana at international coursing in Amermont. She was placed 6th /18 bitches !
Our Favi was less lucky. At nearly 7 years old, 3 competitions in a row on very difficult grounds was too much for her. She was injured in two feet in the first race, and stopped there :(
September, 18th, 2016
A wonderful Sunday again for our Whippet family at the international coursing competiton organized by the friendly Coursing Club Lorrain in Gerbévillers (F) on a very selective ground in the park of the local beautiful castle. Under  uninterrupted rain, our Favi got the second place with 530 pts with
RCACIL
and
CACP
as first bitch (Whippet were mixed for the CACIL as there were only 2 dogs and 7 bitches in catalogue). Jilson du Clos d'Orffeng (father or our "O" litter) took the 3rd place with 521 pts and
RCACP
as second dog). And the little Oriana (Favi & Jilson daughter) did very well again as she finished at the 4th place with 520 pts, just behind her parents, with
RCACP
as second bitch. She can change it into full
CACP
as her mother is already french champion ! And as she finished for second time in the first half in an international competition, she is sure to get the working certificate for entry in working class in shows ! We have just to enter her in 2 other international races and wait for the precribed delay.
An excellent day only spoiled by rain.
September, 11th, 2016
Great day at the international lure competition in Gesves. First big competition for our little Oriana, with 15 entered bitches, most of which regularly on podiums. Oriana finished at a superb second place with
RCACIL
and
RCACBL
. It thus thus begins her international championship at only 17 months !
Favi not fit today and disadventaged in the first round by a bad start on my part, ended at an unuplace.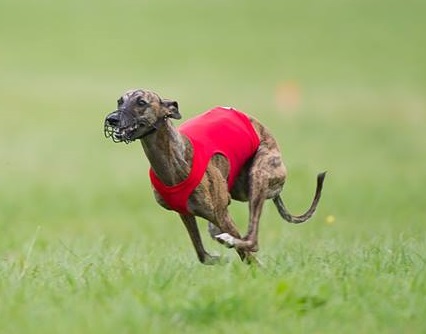 August, 8th, 2016
First official coursing competition for Oriana in the friendly french club CLHF in Fiefs and she did very well. In first race she received 21 pts, exactly like her mother Favi. They received the best points of the morning, so they ran together in the afternoon. This time, experience

was right to

youth, Favi did a demonstration and got 22 pts, against 19 to her daughter. Favi added a 1st place and one
CACP
to her collection, and Oriana finished 3rd. A very good beginning for her !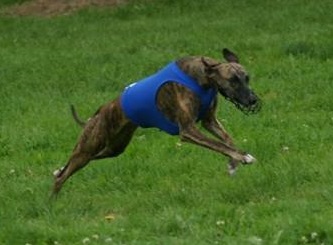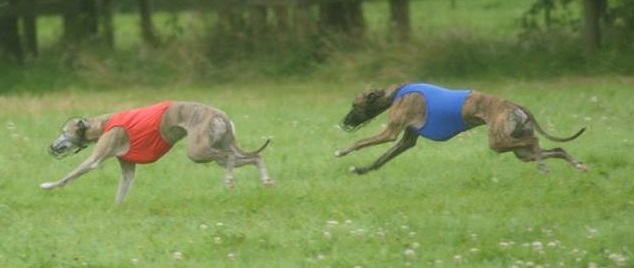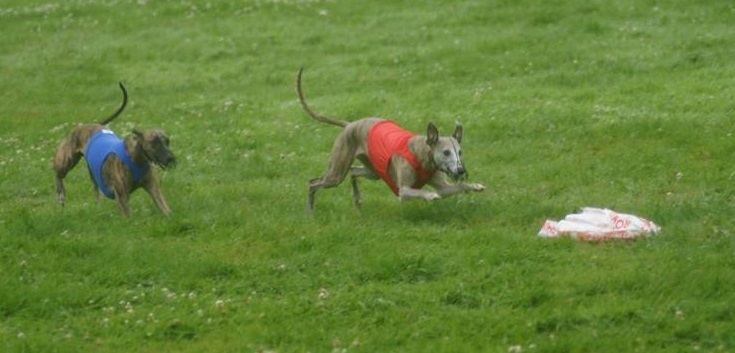 July, 24th, 2016
International dog show Liege (Golden Dog Trophy) judge breed specialist MC Delabelle, Oriana 1st Excellent/1 in intermediate class, Favi 2nd Excellent/2 in Champion class.
Today specialty show the of Belgian Whippet Club on the racing track of Beringen with miraculous weather.
Oriana got a 2nd Excellent / 2 in junior class with a nice comment from Jo Beckett-Hughes (Mulranny Kennel).
I finally also shown our Favi, who is recovering surprisingly fast from the accident of last week, and wanted absolutely coming with us this morning. She received an Excellent not rated in champion class, not so bad for a dog who almost died just a week ago !
April, 25th, 2016
Favi is at home. His head was all swollen left side, there are

also two holes in the muscle of the right thigh. She drinks a little and peed. She sleeps a lot. It probably hurt when she wakes up because she gasps much. But she's alive, that's the main currently.
April, 24th, 2016
Sad end of week-end. A fight between the girls in seasons et Indhira almost killed Favi, she is now at a vet near our home (not possible to take her further) between death and live
April, 17th, 2016
A half-day shade this Sunday at coursing in Beringen. Despite two good races Favi finished only 9th out of 16 bitches. This result makes her unfortunately go down in 7th place in the qualifying standings for the European Championship in which only the top 6 can participate (she was the fifth before this competition). So she has been ejected from the selection :(
April, 16th, 2016
Good day at the international Brabo show in Anvers. Favi was placed 2nd Excellent/3 in champion class, and Oriana 2nd Excellent/3 in junior class. Our little one got also the "Admission to Breeding Certificate". Judge was L. Dehaes (B).
April, 9th & 10th, 2016
Excellent week-end for our Whippets coursing team. On Saturday in Amermont (CACIL competition) our Favi (Multi Ch. Meradith Favourite Everyone) was placed 4th and 1st bitch out of a mix entry (there were only 3 dogs, and they took the 3 first places).
At the end of the races, we try to put Oriana on a 1/2 course, and she did very well. So we came back with her on Sunday and this time she did the whole run. Like on Saturday she did very well, and she got her first "good race" for her future coursing licence !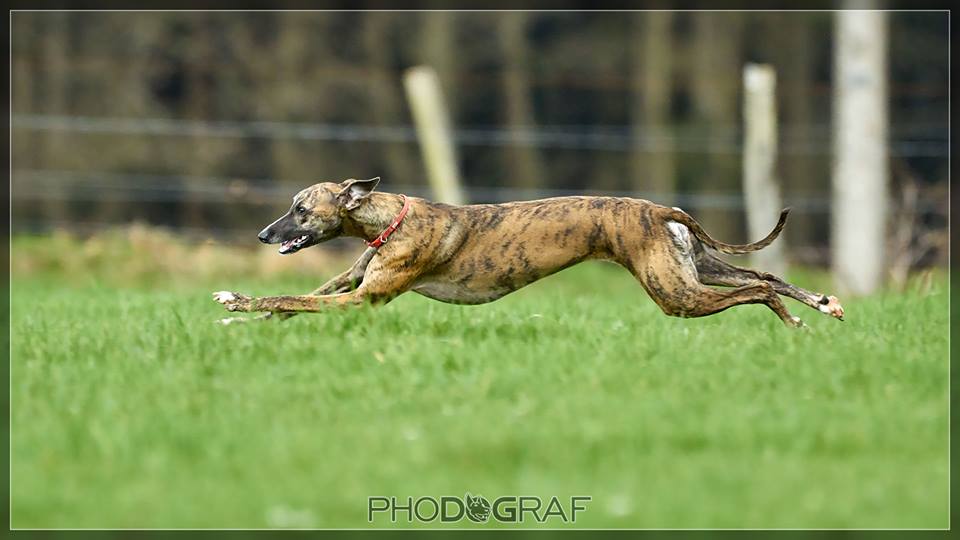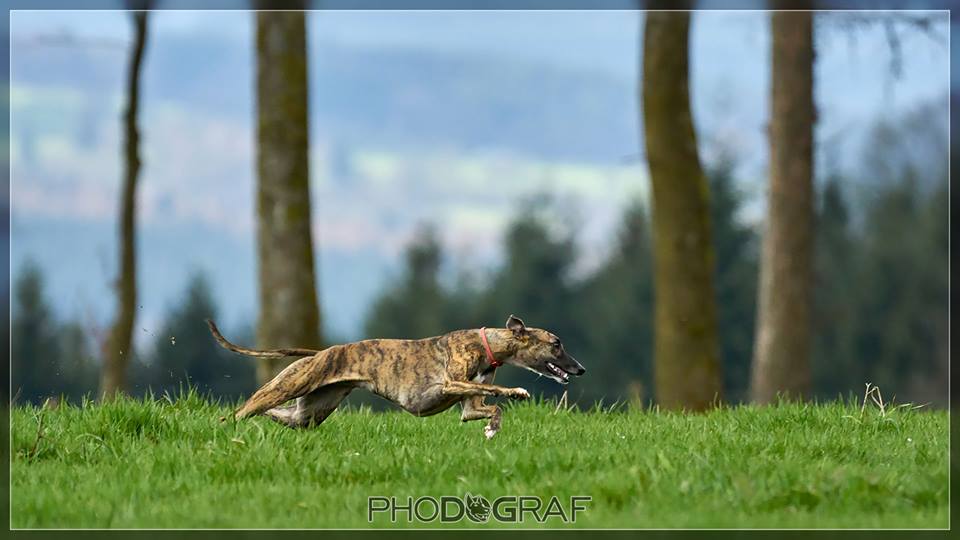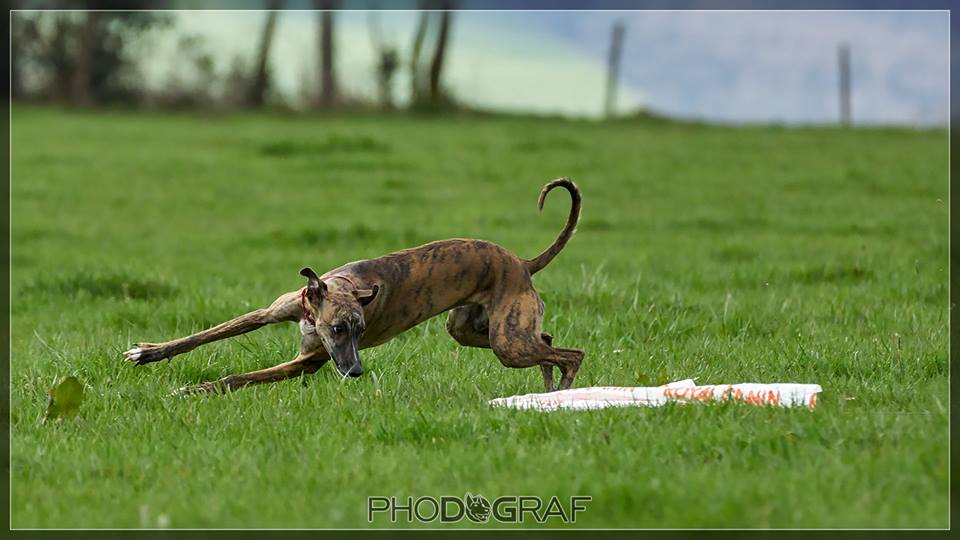 April, 3rd, 2016
1 year already ! Happy Birthday to our Whippets "O" litter : Oriana, One Salsa, Ondine & Obama (out of Multi Ch. Jilson du Clos d'Orffeng x Multi Ch. Meradith Favourite Everyone)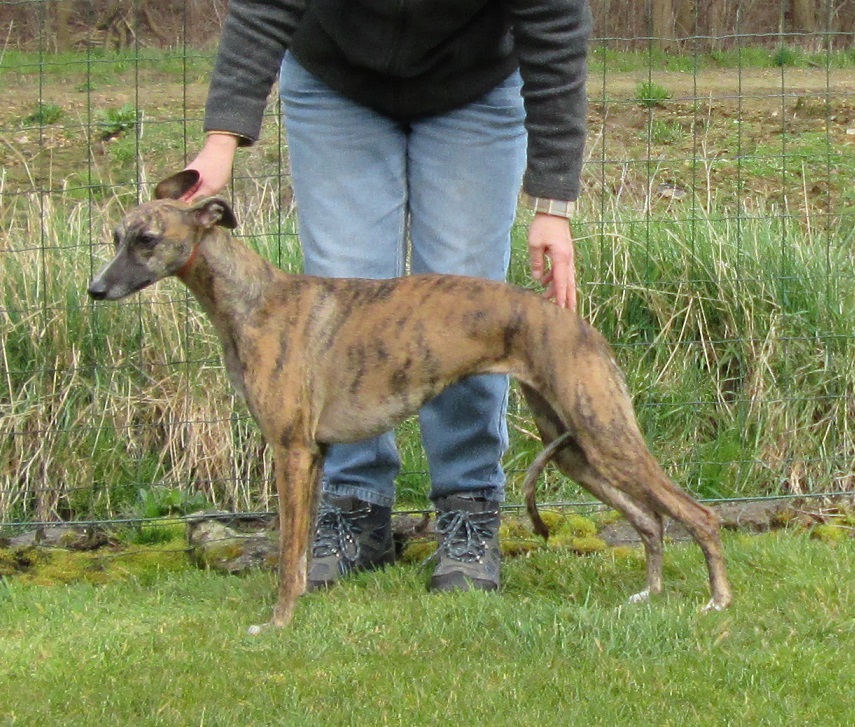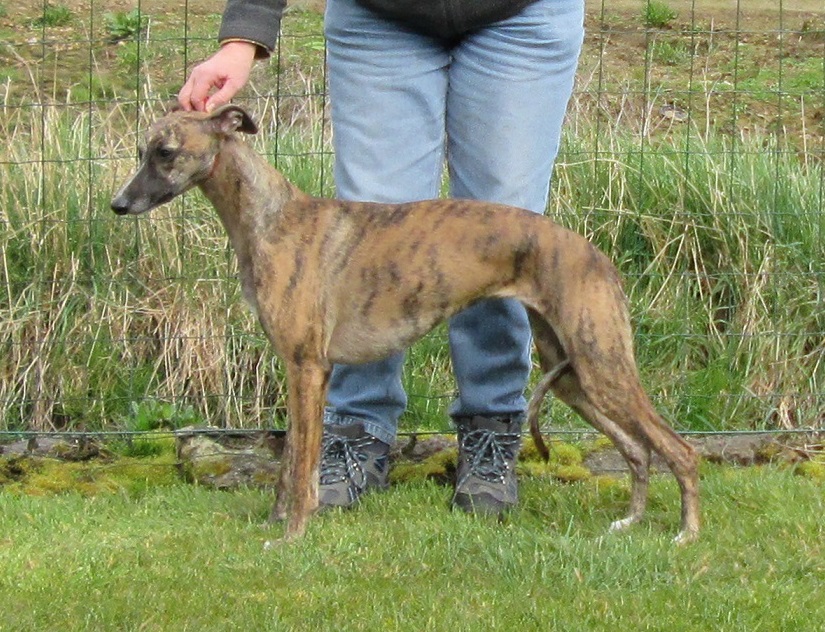 Oriana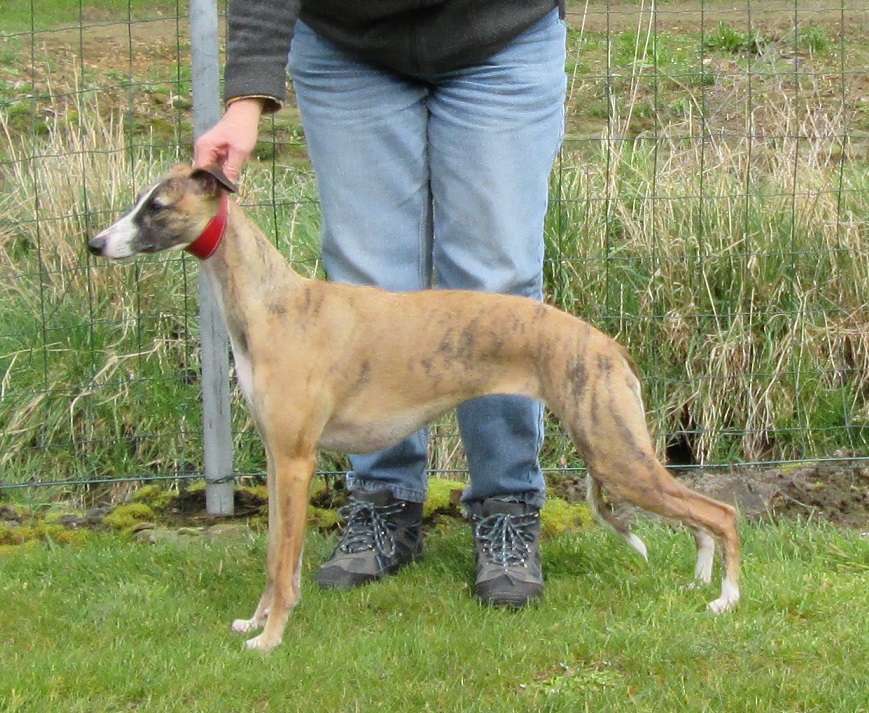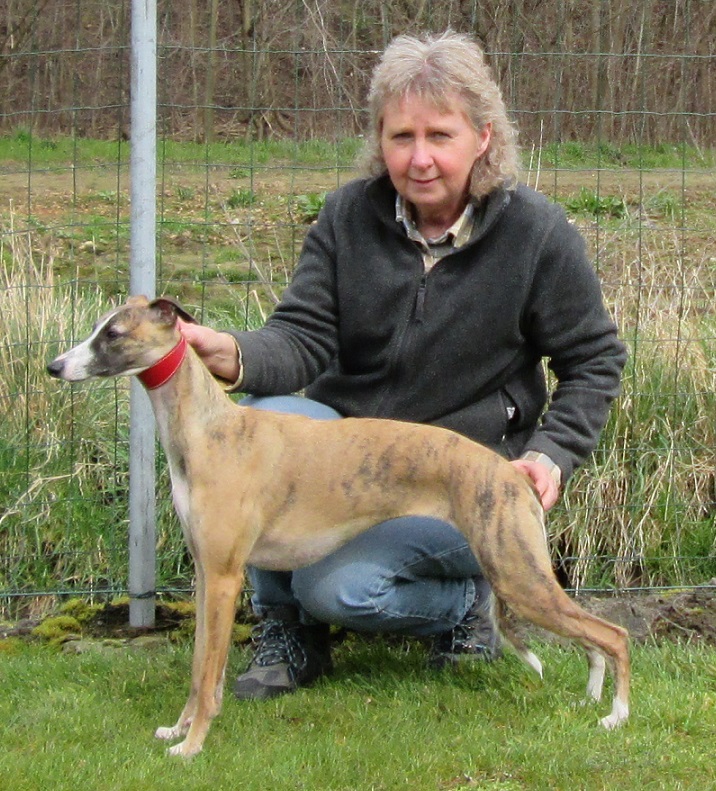 One Salsa
March, 27th, 2016
After her injuries on 27/9 and 15/11, followed by 2 more during winter, Favi was finally back in coursing on 27/03/2016 at CACIL CNBCL competition in Havelange, with a beautiful 6th place out of a strong entry of 17 bitches and only 8pts ( / 600) less than the first one.
I hope that the problems are finally behind us.
March, 12th, 2016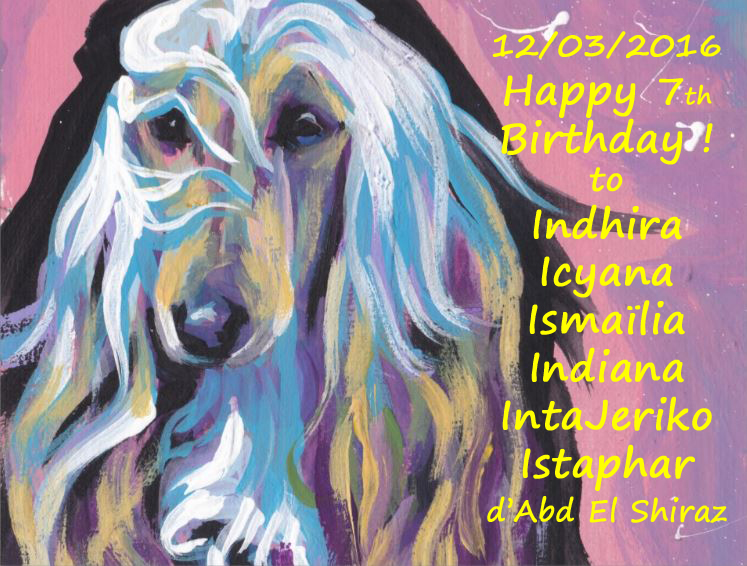 March, 06th, 2016
Junior & Veteran Day show in Herve. Oriana was entered in junior Class and got a 1st Excellent and Best Junior. Judge was Mrs R. Reyniers from Belgium.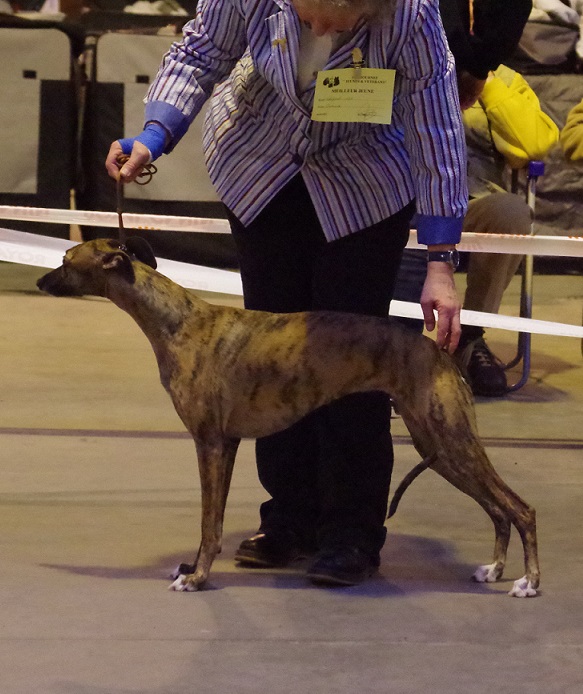 January, 09th, 2016
First show of the year for the Whippet team. Favi & Oriana were entered at Hoogstarten international show. Favi got a 3rd Excellent in champion class, Oriana received also an Excellent 3rd place for her first time in junior class at 9 months and 1 week. Judge was Mrs G. Veiga from Portugal