News 2013  
More news on our Facebook page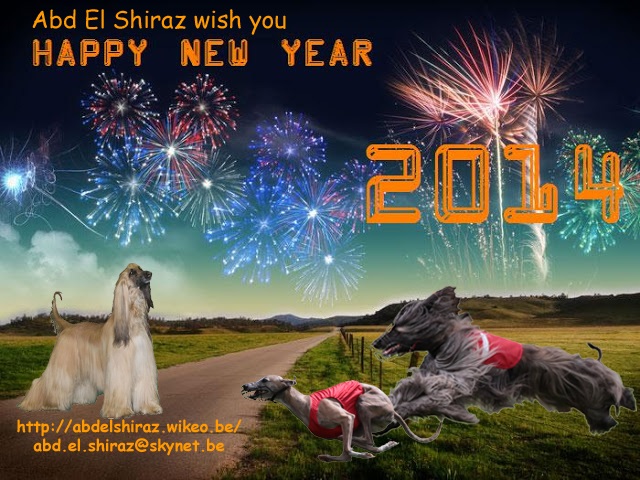 December, 14th, 2013
Wonderful day, again, for Icyana. Entered at the international show in Erba (I), she won CAC-CACIB under italian judge M. Bottero. Congratulations to Fabienne & Claude, you did a great job !
December, 12th, 2013
Today our little Favi (multi Ch. Meradith Favourite Everyone) is 4 years old.
She is The Boss, as written on her tie :-)
Happy Birthday sweetheart ♥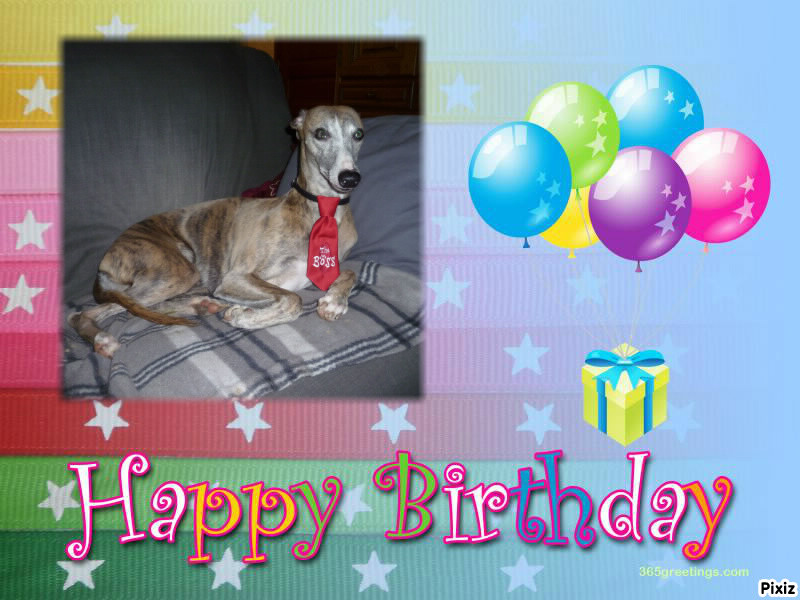 December, 06th, 2013
Bahiya is 11 years old today. Happy Birthday, sweet girl ♥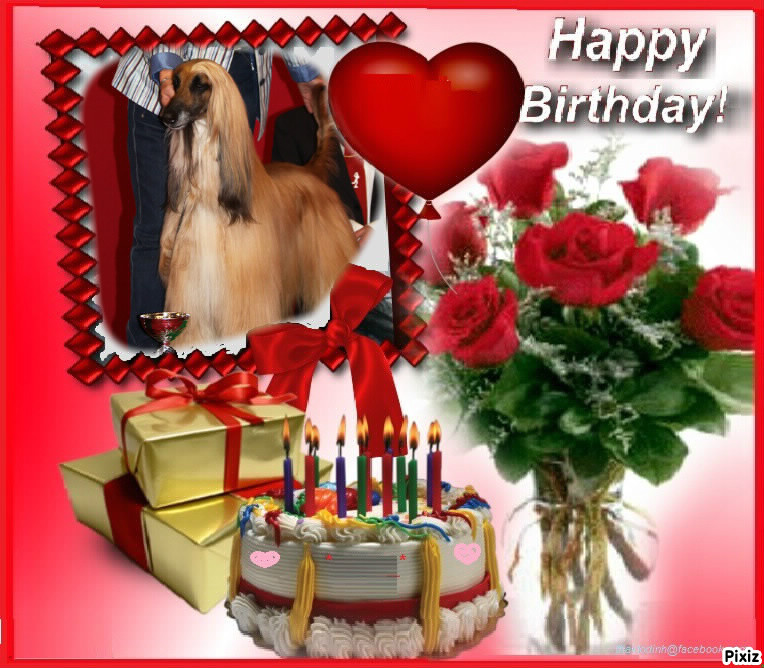 November, 30th, 2013
Icyana' own page is finally updated ! We are so proud of her. With 20 CAC, 14 RCAC, 6 CACIB, 3 RCACIB, she is the most successful girl of the "I" litter. Many thanks to Fabienne & Claude for loving and showing her.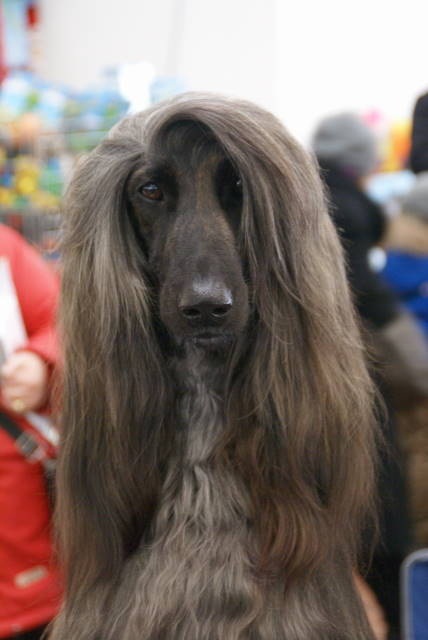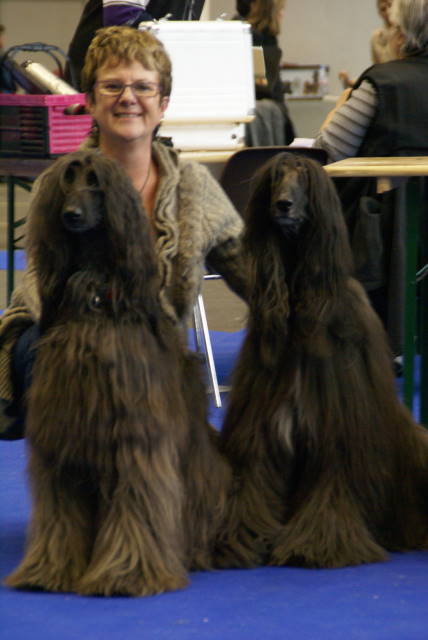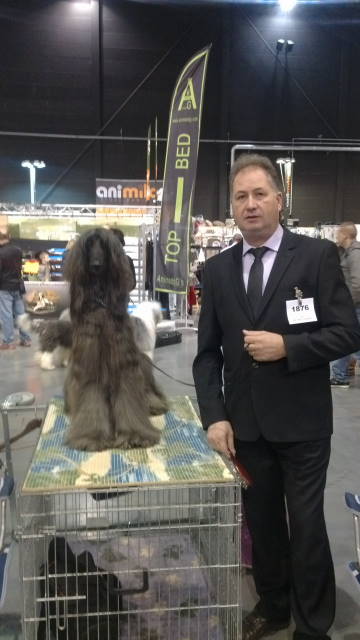 Icyana, Fabienne, and friend Vitta Bella                                       Icyana and Claude          
 
November, 27th, 2013
Today, we received the official certificate for Indhira's Belgian Championship
Indhira is now:
Belgian Champion
Luxembourg Champion
Swiss Champion
International Champion
International Lure Coursing Champion
International Beauty & Performance Champion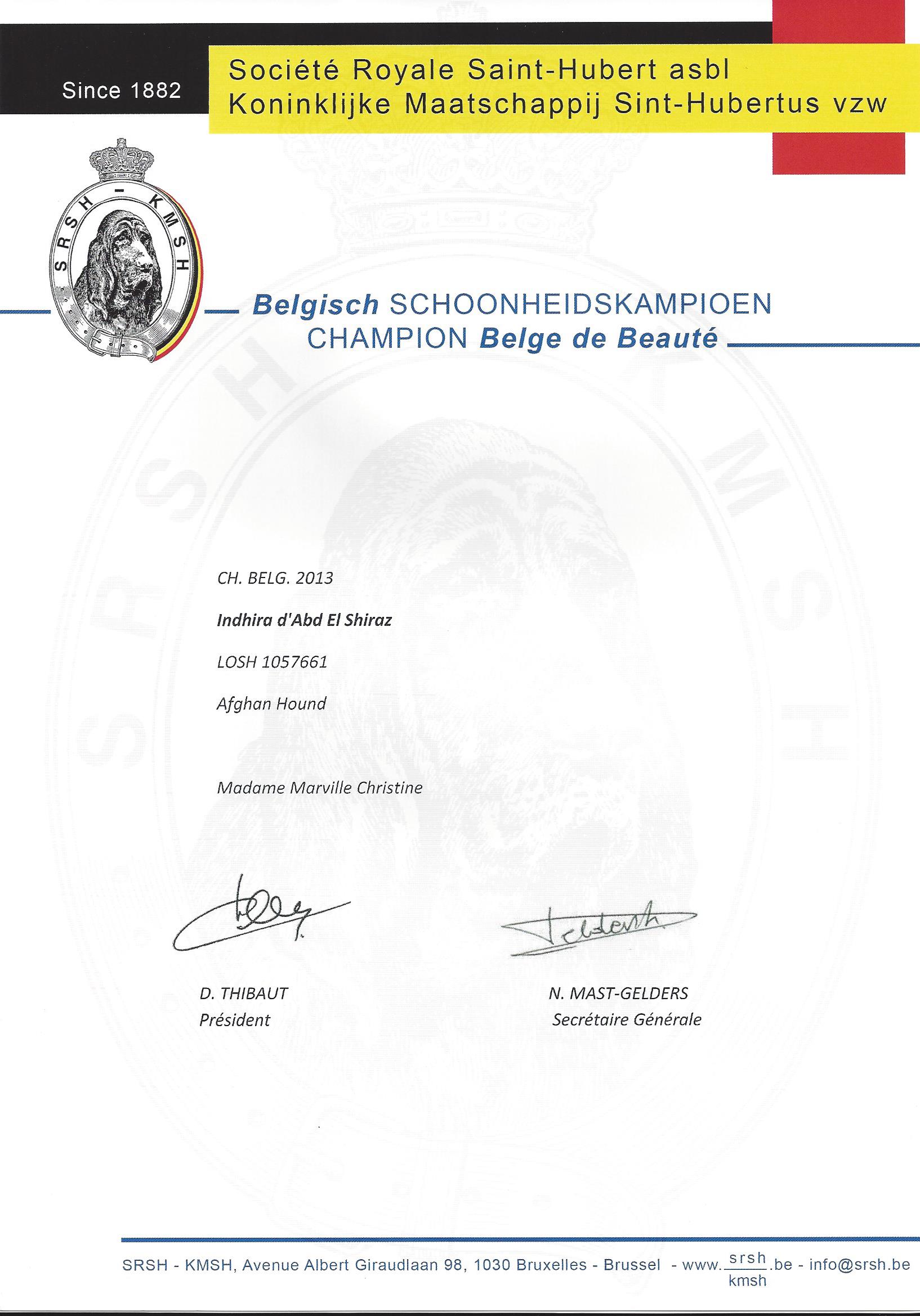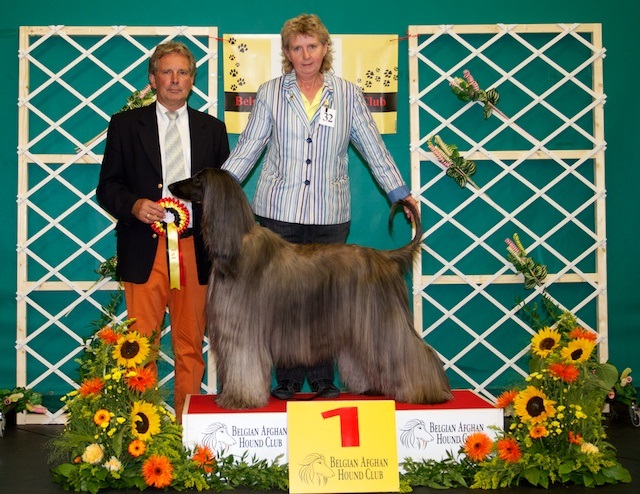 November, 9th & 10th, 2013
This week-end, last lure coursing of the year in Merksplas, and the end of an incredible (again !) working season for our little Favi. Despite a rather (and strange) bad result of the day (10th/20), she finished the year winning for the second time in a row the Lure Coursing Belgian Cup.
And I thinck that she was really the one to deserve it. Among the 6 coursings organized in Belgium in 2013 , she was 2 x 1st , 3 x 3rd , 1 x 10th, without forgetting her victory in GPX , and the CACBL Championship that she also completed this year . She gets the best score "selective" (1082 pts) and the highest total score (2099 pts) amongst all Sighthounds (all breeds included) who ran in Belgium this year!
This brings the total of all her titles to 9, obtained in just 2 years , and to my knowledge (to check) , the Whippet from belgian owner with the most successful carreer in lure coursing competitions, as she is :
 
In work:

Belgian Cup Winner 2012
Belgian Cup Winner 2013
GPX Winner 2013
Belgian Lure Coursing champion
International Lure Coursing Champion
 
In Beauty :
Luxembourg Champion
Swiss champion
 
Mixed:
French Laureat Standard Performance
International Beauty & Performance Champion
 
Briefly, an exceptional little girl with a gold character ♥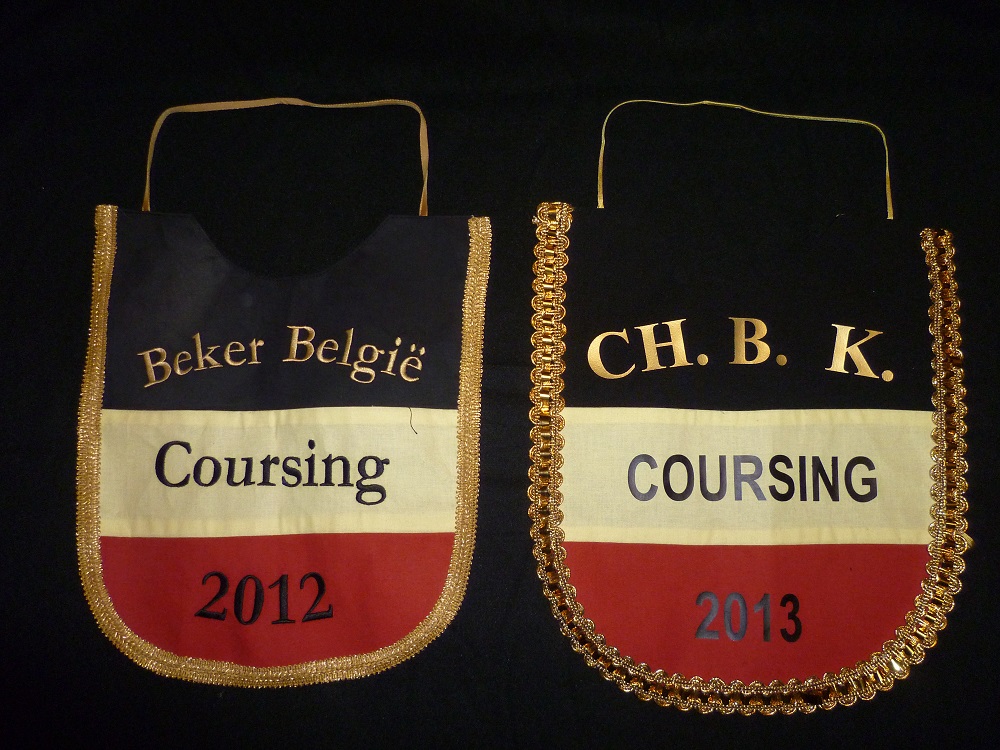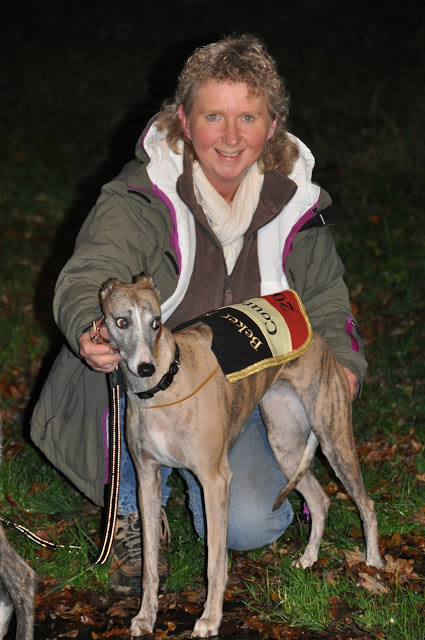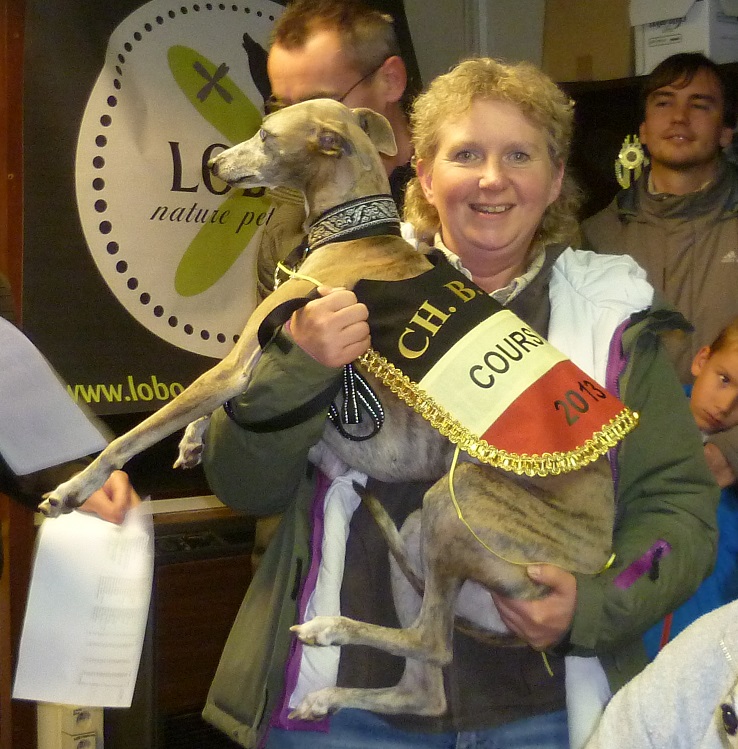 2012                                                    2013                           
On Sunday, it was also the last race of the season for our "Abd El Shiraz Coursing Team". The bad weather conditions led to the cancellation of the second round. Pointing a little harsh for Jeriko, who finished 7th / 9. He ranks 3rd in the Belgian Cup.
Indhira after her last performances a bit lackluster, makes a very good race and is placed 6th/12. She finished 2nd in the Belgian Cup only 10pts behind winner (1023 pts against 1033).
We had many good times this year! Rendezvous on the grounds next spring!
November, 3rd, 2013
Today, first official racing competition for Indhira in Awans. She has her license for 2 years, but I had not yet had the opportunity to enter her in an official race because there was always a show or coursing the same weekend as the racing competitions. She finished #3 / 3 in Class B 344 m, with a bad chrono compared to what she has already done in training, but still in the "post-heat" period and facing two competitors fast and experienced . The final and the awards ceremony took place in the pouring rain. It dripped all the two of us !
October, 20th, 2013
This is probably a dream and I'll wake up because it's incredible! Today at lure coursing in St Pieters Rode, our little Favi won the GRAND PRIX OF BELGIUM 2013 in front of competitors of high quality. This win allows her to be automatically qualified for the European Championship in 2014 and is the seventh title won by our wonderful little Whippet ♥.
October, 12th, 2013
Back from the coursing of Amermont where we enjoyed a miraculous weather (cold but dry and sunny). Beautiful ground, great atmosphere and lots of gifts for everyone. Inglorious results for our Afghans: Indhira, who is struggling to come out of the post-heat, finished fourth on 5 and brother Jeriko was the last. Indhira wins without great merit the Challenge LCA-VP (she is the only Afghan to have participated in the two events). As for our little Favi (Meradith Favourite Everyone), equal to herself, she ends again on the podium with a 3rd place /12, two small points below the first two. She misses the Whippets Challenge  for 1 point. She is of course still leader of the Belgian Cup !
October, 06th, 2013
A new title for our little Favi ! We finally received the official certificate of Lure Coursing Belgian Champion !
Favi is now:
Luxembourg Champion
Swiss Champion
Laureat Standard Performance
Belgian Lure Coursing Winner 2012
Belgian Lure Coursing Champion
International Lure Coursing Champion
International Beauty & Performance Champion !
So incredible regarding that she is less than 4 years old !
September, 22th, 2013
Indhira finished her Belgian Championship at Brussels Dog Show. See Shows page.
September, 15th, 2013
Last lure coursing competition on the small but beautiful ground of Vien.
An excellent result for Favi who finished at 3rd place. Indhira for her part, took the last place in Afghans mixed dispite 2 good races, but a little lack of energy after her seasons !
The best came from Jeriko who finished 2nd/7 with the RCACBL. Congratulations, Jeanine & Rick !
September, 1st, 2013
We received few certificates for our girls.
Bahiya added a 7th title to her palmares. She is now also Belgian Veteran Champion.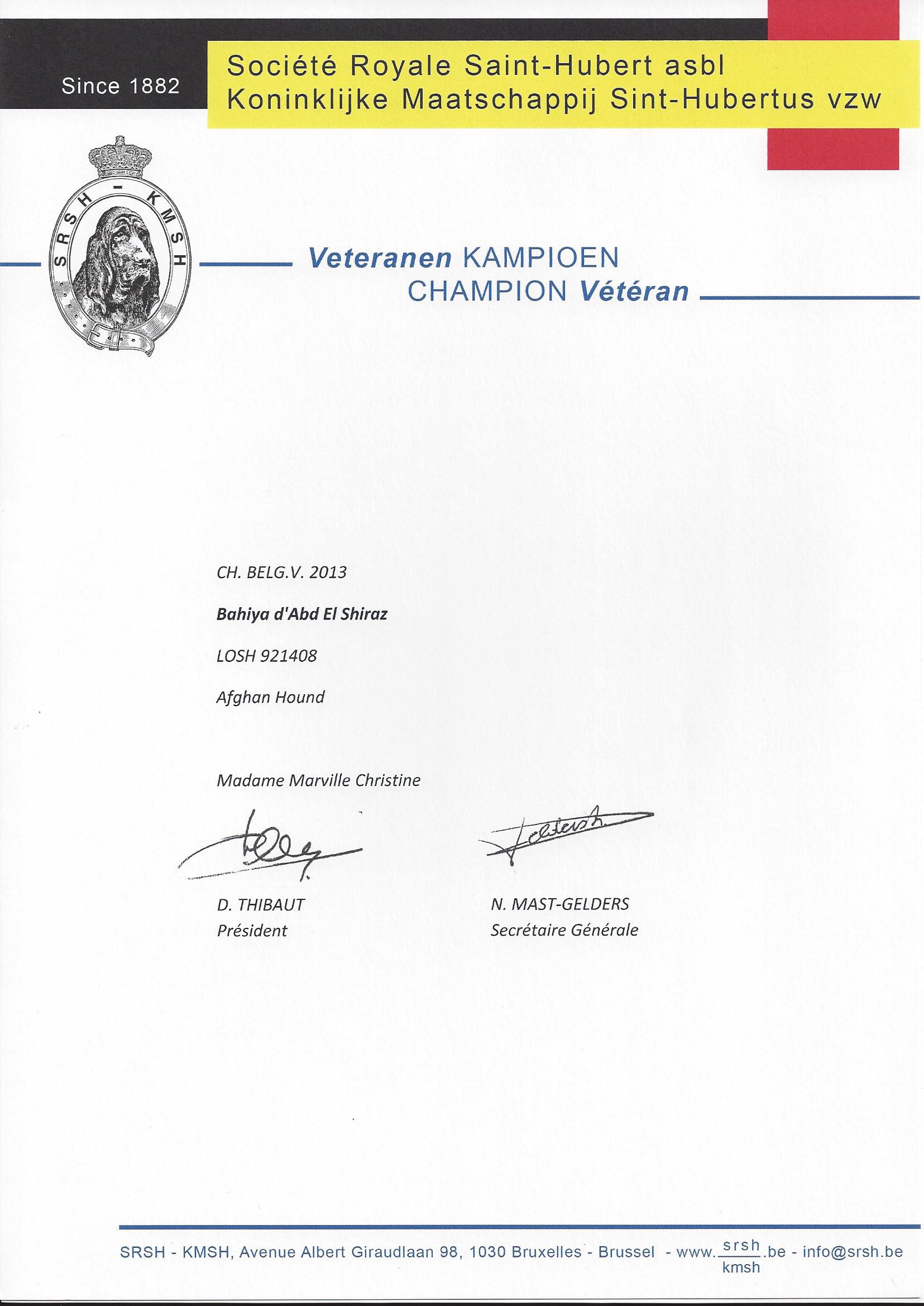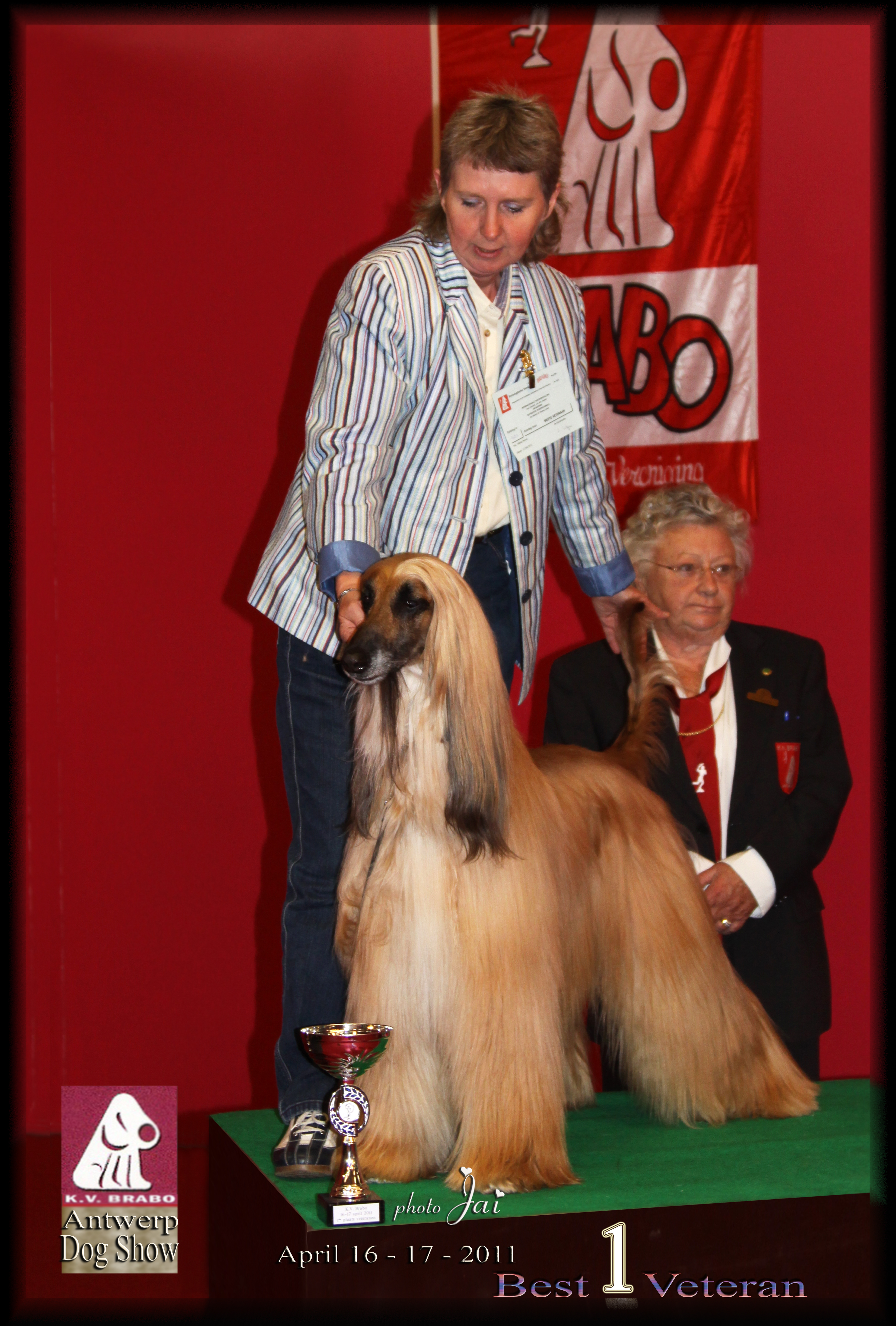 Indhira & Favi received both their Swiss Championship (5th title for Indhira, 6th title for Favi)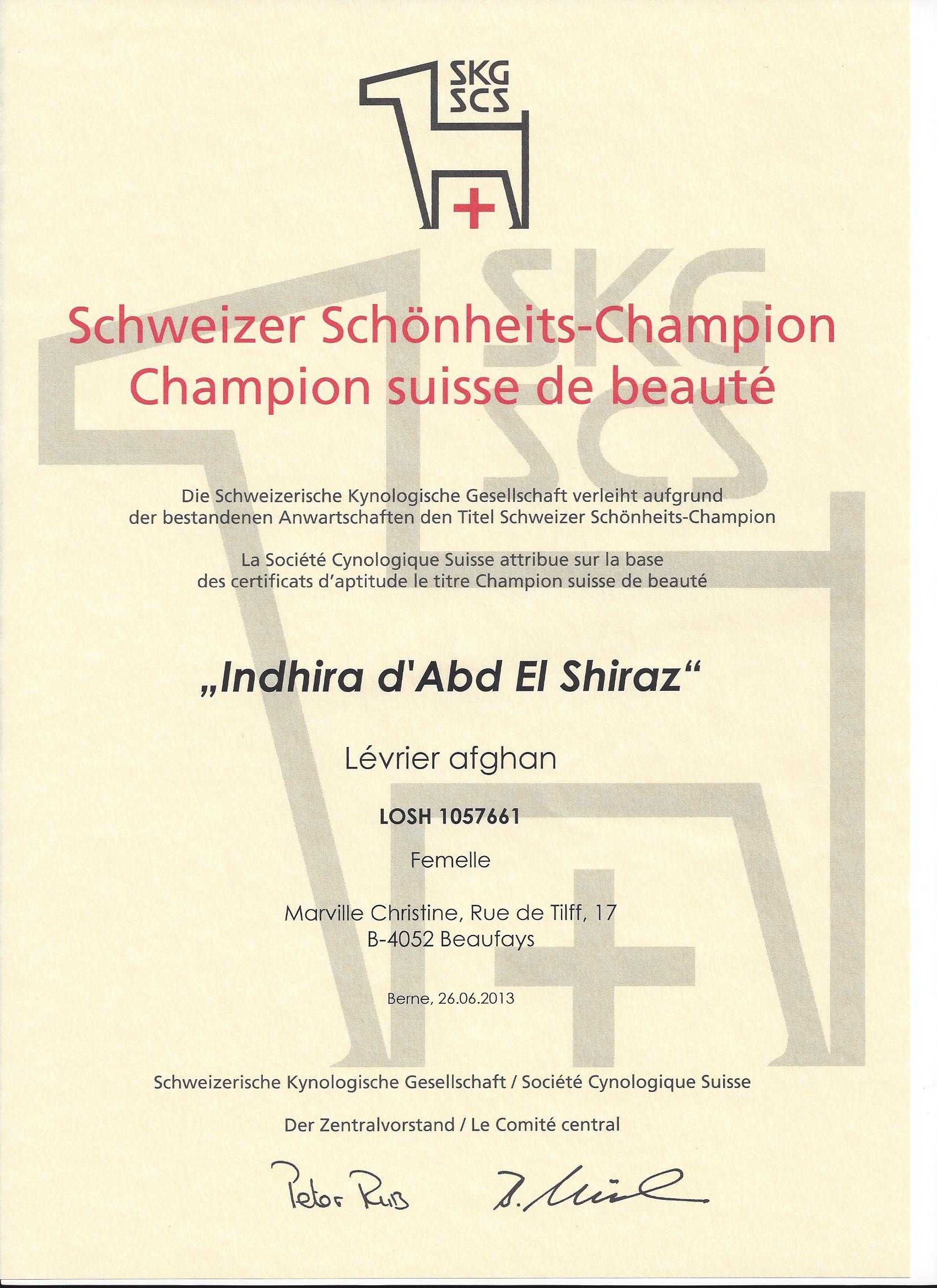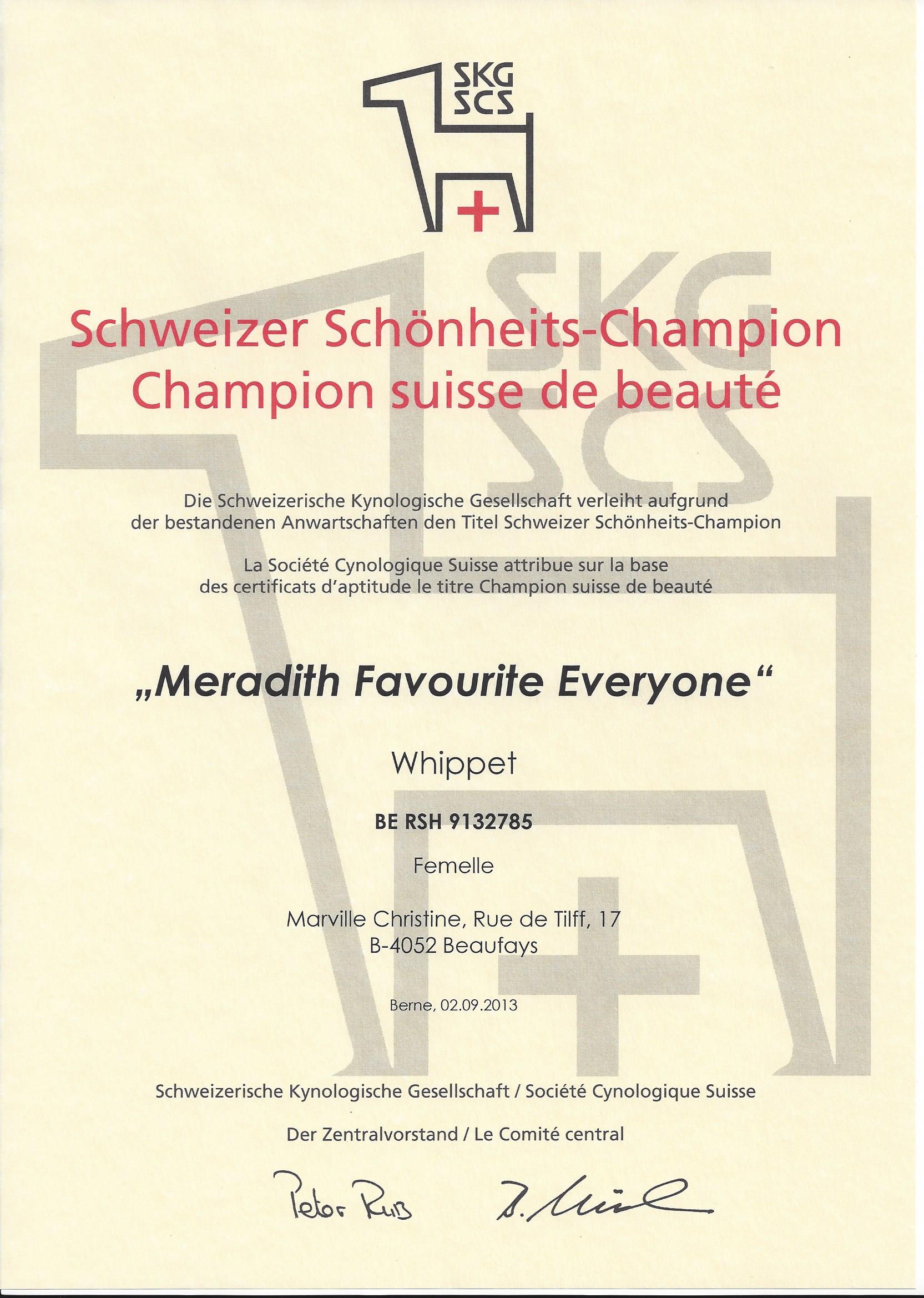 September, 1st, 2013
Icyana was entered at the European Dog Show. See Shows page.
August, 24th & 25th, 2013
Excellent week-end at lure coursing franch national championship in Chardonnay for Indhira & Favi . They finished both on the third step of the podium, and both only 2 points below the first place.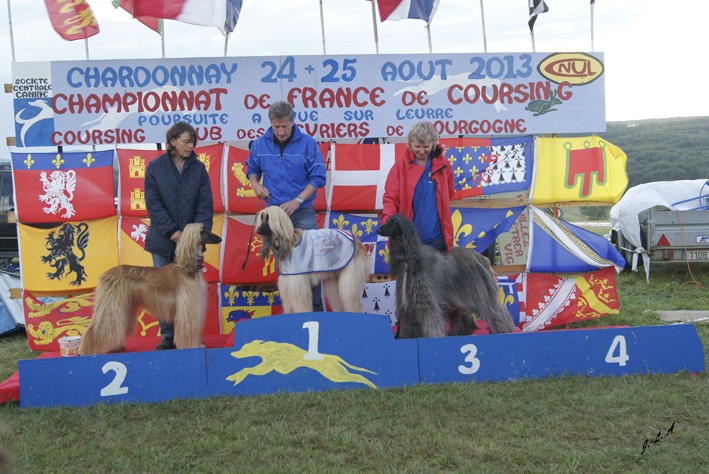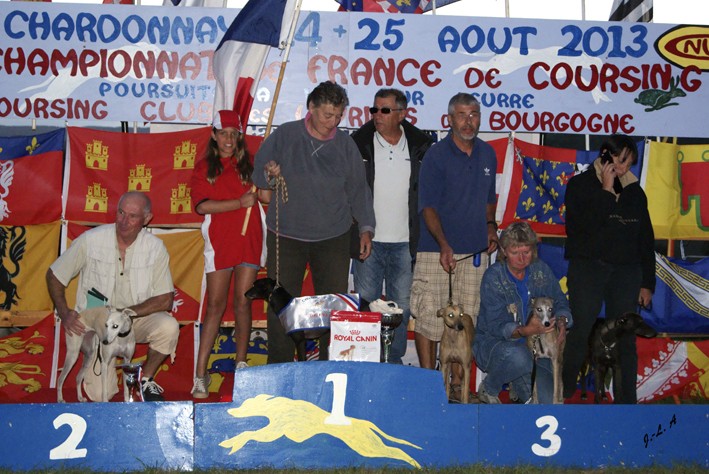 August, 11th, 2013
Indhira #1 Excellent à the Belgian Afghan Hound Club Specialty. See Shows page.
August, 3rd, 2013
For the second year in a row, Indhira & Favi are qualified for the lure coursing french national championship in Chardonnay ! The selection is out on CNUL website !
July, 28th, 2013
This Sunday, at Méan lure coursing competition, it was the BIG come-back of the girls on a difficult ground where only few dogs have made a full course.
First of all, Indhira won a superb 2nd place / 9 and the RCACBL.
And once again our little Favi amazed us winning, thanks to an excellent first round and a second round magic (and masterful 190pts/200!), the first place (out of 11), his sixth CACBL and the second highest score of the day (374/400)!
Congratulations also to Jeriko, which ranks 4th with two very good races!
July, 20th, 2013
Indhira & Favi were entered at the Golden Dog Trophy in Liège, with the only "Challenge Beauty & Performance" organized during a dog show. See Shows page.
During this show, I participated also in the demonstration of the SEC members Display Team. It was a busy week-end.
https://www.facebook.com/photo.php?v=10200966154454119&set=vb.1174071081&type=2&theater
June, 22th & 23th, 2013
We are back from the European Coursing Championship with results a little bit disappointing.
The grounds were a little ... surprising! Very hilly, with different soils and many obstacles. Very funny, but our dogs are unfortunately not used to running in such conditions.
On Saturday morning, early in the race, the Afghans had to cross a ditch twice. It was fairly easy if the dog followed the path of the lure. But Indhira decided to hunt rather than mindlessly follow, and while she was yet in top, she decided to cross the ditch outside the intended path and found herself entangled in nettles one meter high. Time to emerge, her partner in the race was already far away. In the spirit of hunting, so she decided to get off the ground to the opposite, hoping to take the lure on its return, but unfortunately too far to be back in time. However two of the judges gave her 84 and 78 pts for hunting, the third one gave only 65 for not following the path. She finished the morning race with one of the worst scores: 227/300. And weeks of preparation were destroyed in less than 1'30 !
In the afternoon, the race took place in the dunes. And despite a very good race (starting in head, catching the lure during the race, and a fantastic finish climbing the dune in head, she received once again 30-40 pts less than the others (!?). She finished 34th/40. With only 20 pts more, she could be placed around 20-25th place, which would better corresponded to her value in relation to other competitors.
On Sunday, the Whippets ran on the same ground than the Afghans on eve morning, but without the ditch. Favi received 250 pts and was placed around the 20th place. In the afternoon, despite a good race, she got only 241 pts (I saw a lot of worst races where the dogs got more points). She finished 34th/80. I think also that a place in the surroundings of the 20-25th would have been better matched to her value, but this is not so bad considering the high level of competition in Whippets and the fact that Favi is only 3 years old.
Despite of the results we'll still keep a good memory of this weekend which was an excellent experience and included many good friendly times.
June, 10th, 2013
Today, we received 2 new championship certificates for our little Favi.
She is now officially International Lure Coursing Champion and International Beauty & Performance Champion !!!
She is really a fantastic complete Whippet ♥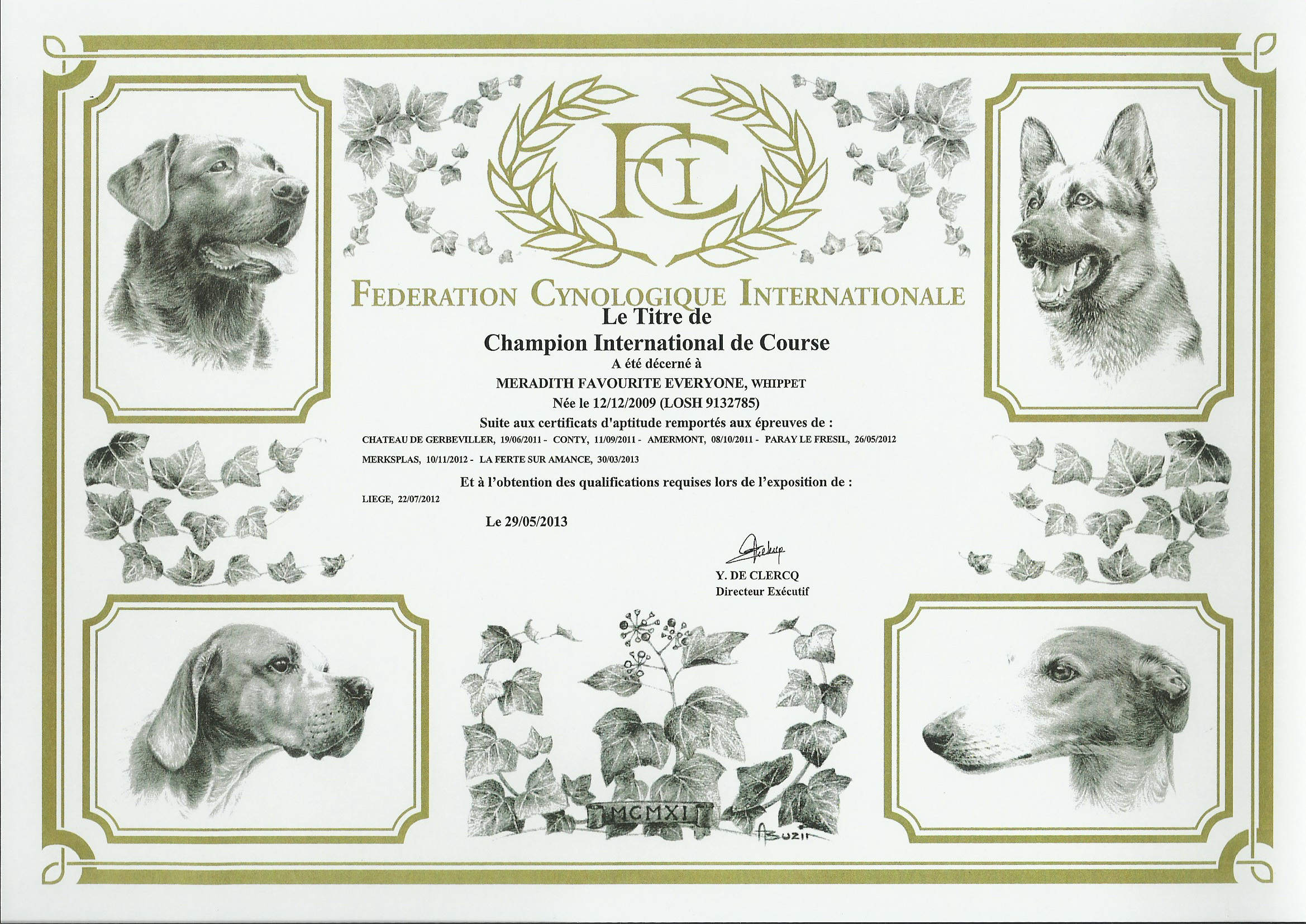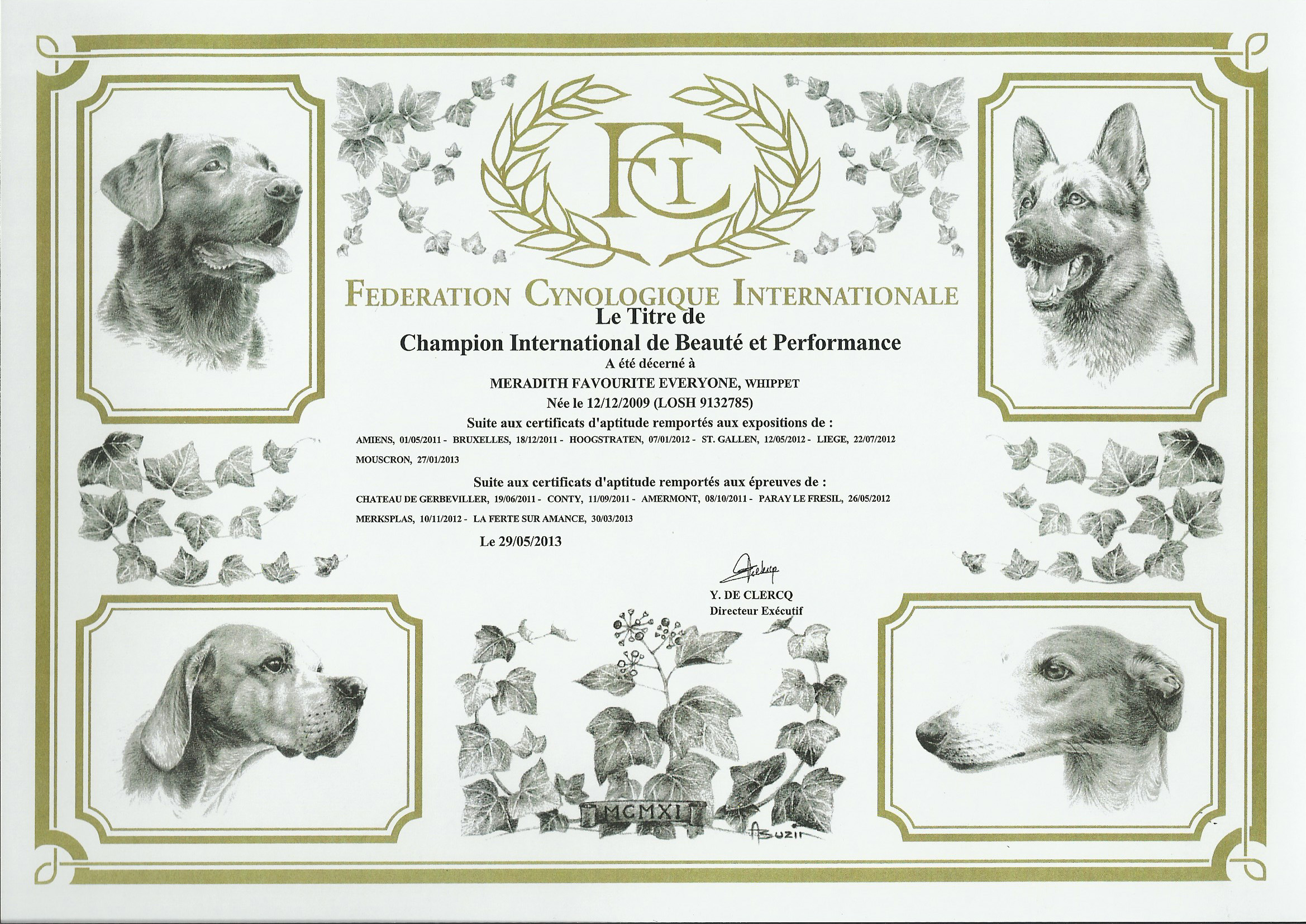 June, 9th, 2013
A disappointing day at the Lommel dog show. See Shows page.
June, 2nd, 2013
A small video of Indhira at the april international couring of Agonges, where she won the CACP.
You can see Indhira (in red) between 0,35' & 1,32'
Voir cette vidéo sur Youtube">Voir cette vidéo sur Youtube
May, 18th & 19th, 2013
What a great weekend again for the Abd El Shiraz coursing & show team !!!
On Saturday, the best came once again from our little Favi. The "terror of the grounds" was back ! #1 in the first round, she won, due to a fantastic second round, her 4th CACIL, her 5th CACBL, and second "Lévrier d'Or". She is now in order to receive the lure coursing belgian championship title !!!
Indhira took a good 4th place regarding the competition, and Jeriko finished only 8th/10 but deserved better.
On Sunday, the 3 same + Bahiya were entered in Wieze dog show. See Shows page.
May, 9th to 12th, 2013
Back from a "marathon-coursing-weekend" with results neither bad nor good in the rain, wind, cold, and with a super-tracheo-bronchial-rhinitis!
Thursday, May 9: Specialty FALAPA in Laferté: Indhira 3rd Excellent,
Friday, May 10: Specialty Whippet in Dallet: Favi 27th Exc/66 (did not deserve to win, but I still wonder how the judge has found 26 better than her !)
Saturday, May 11 and Sunday May 12: Beaune inter coursing: Indhira 2nd Excellent RCACP, Favi 4th Exc.
Monday, May 13: Everyone at home almost dead !!!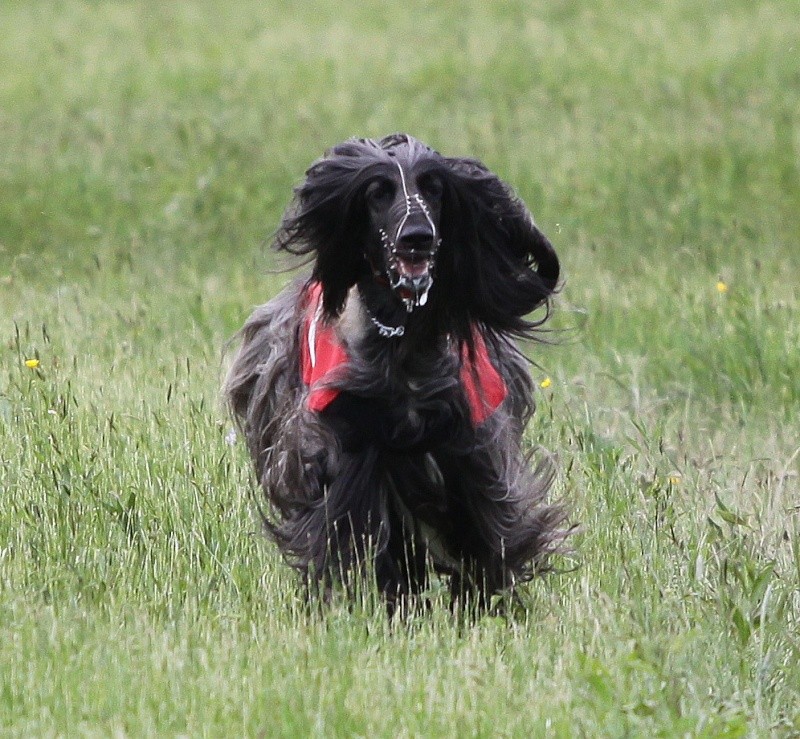 May, 1st, 2013
Great week-end in St Gallen (CH) for Indhira & Favi. See Shows page.
May, 1st, 2013
Favi at the belgian national specialty. See Shows page.
April 28th, 2013
We are backfrom the international coursing of Belfort, where the girls are still distinguished, since they have to withstand the swiss armada who traveled in numbers (1/4 of the competitors) and quality with powerful and beautiful dogs.
Indhira ranks 3rd Exc/ 8 RCACP behind 2 Swiss bombs, with a nice score of 359 pts.
Favi, meanwhile, with a beautiful first race which nevertheless took place at 2:45 p.m. after countless technical problems due to heavy rains in recent days (again!!) won the first round with 190 pts! Unfortunately, as it is often the case, her Swiss rival and herself neutralized themselves in the second round (ran around 18h !) and this is another Swiss bitch who won. Favi  is finally ranked 3rd Exc/14, with still one of the best scores of his career: 375 pts. And this morning, we had the pleasure of discovering her picture and a small interview in two regional newspapers.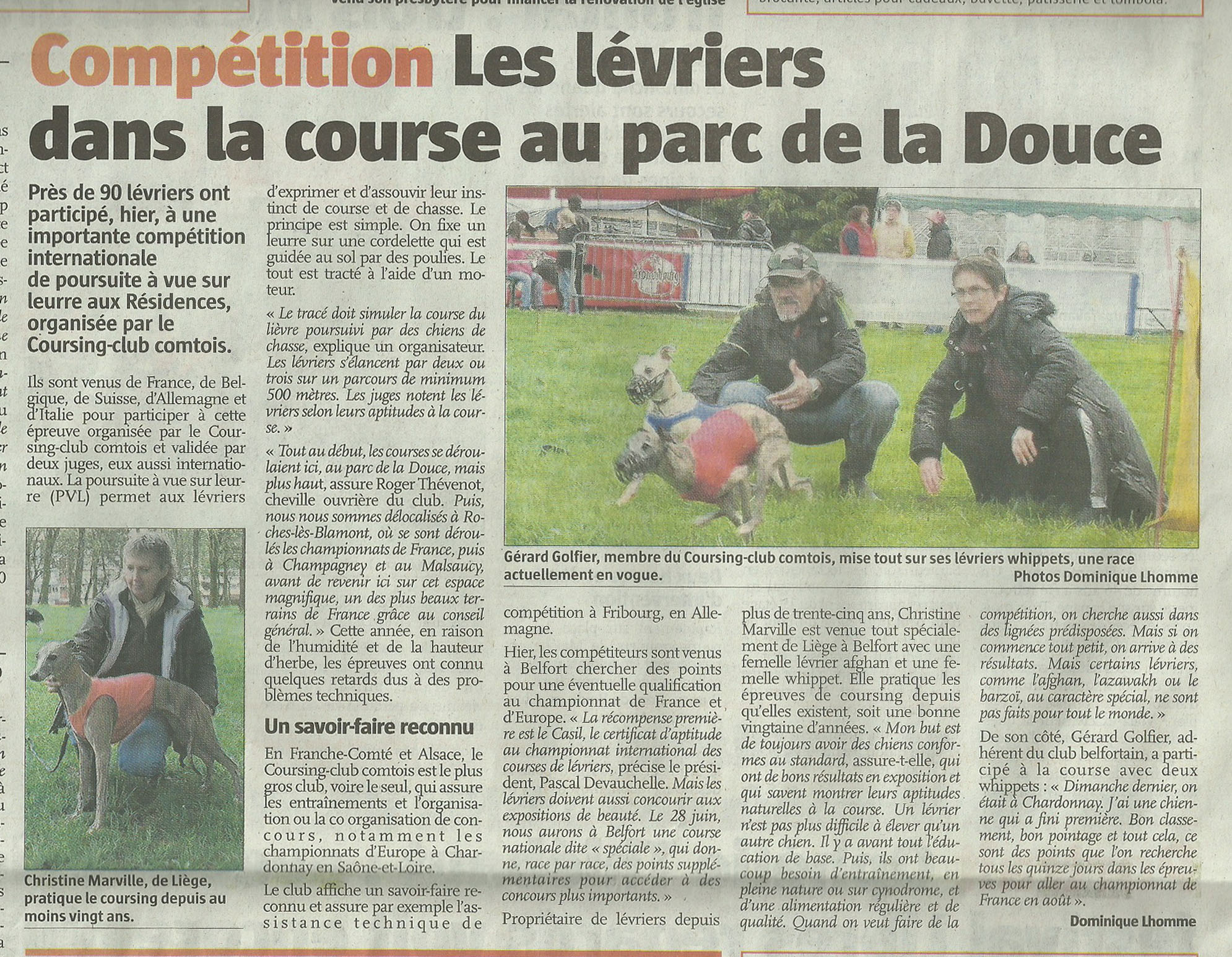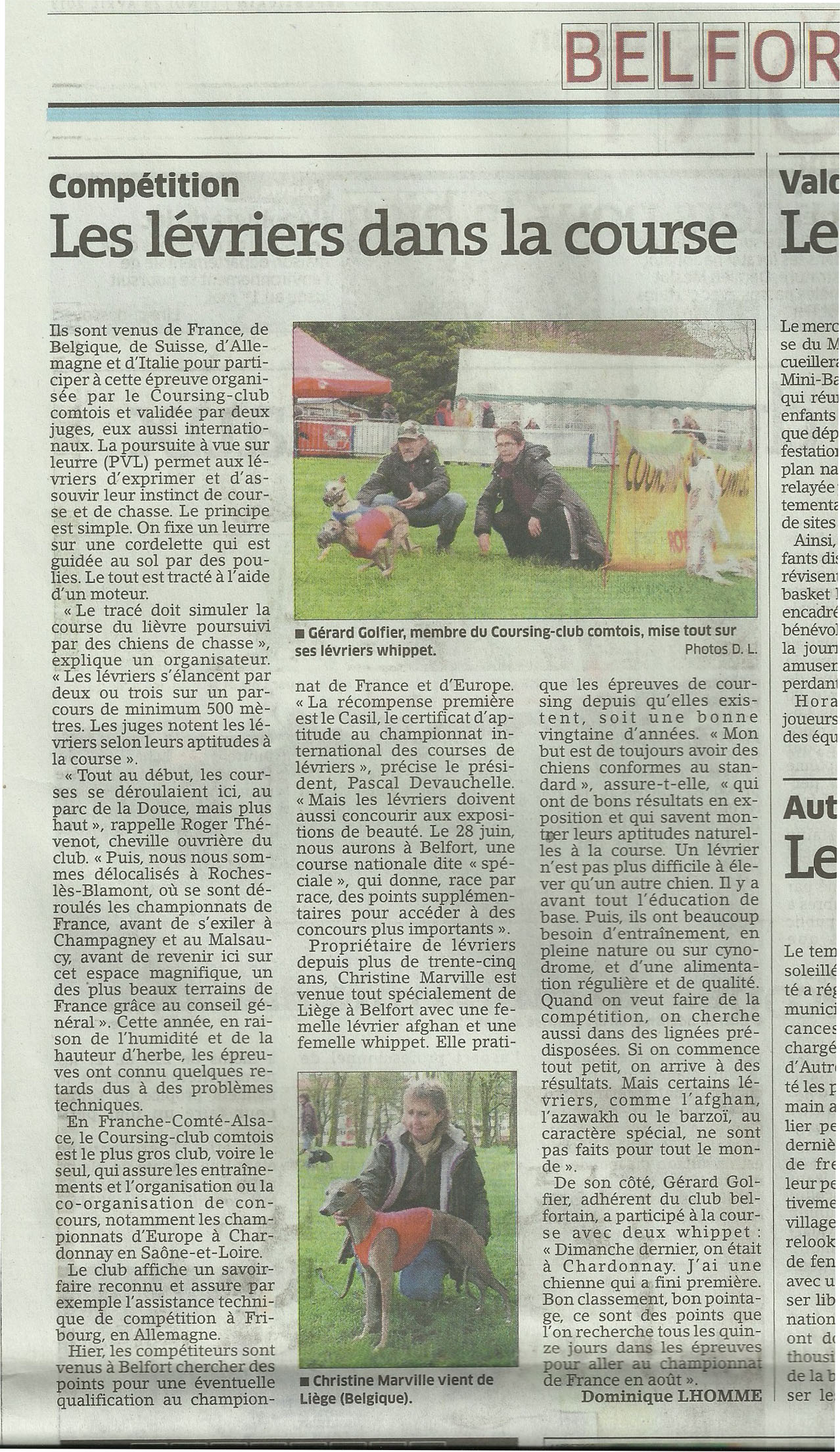 April 13th & 14th, 2013
This week-end, we were in Agonges (F), for 3rd coursing of this year.
A good Saturday for Indhira who got a 1st Exc. with CACP on a very technic and wet ground.
On Sunday, Favi was heavily penalized in the first round for an error of direction, yet immediately rectified and despite an end of race in "cannonball" mode. Her ranking no longer allowed her to return to the best in the second round. She finished 11th/18.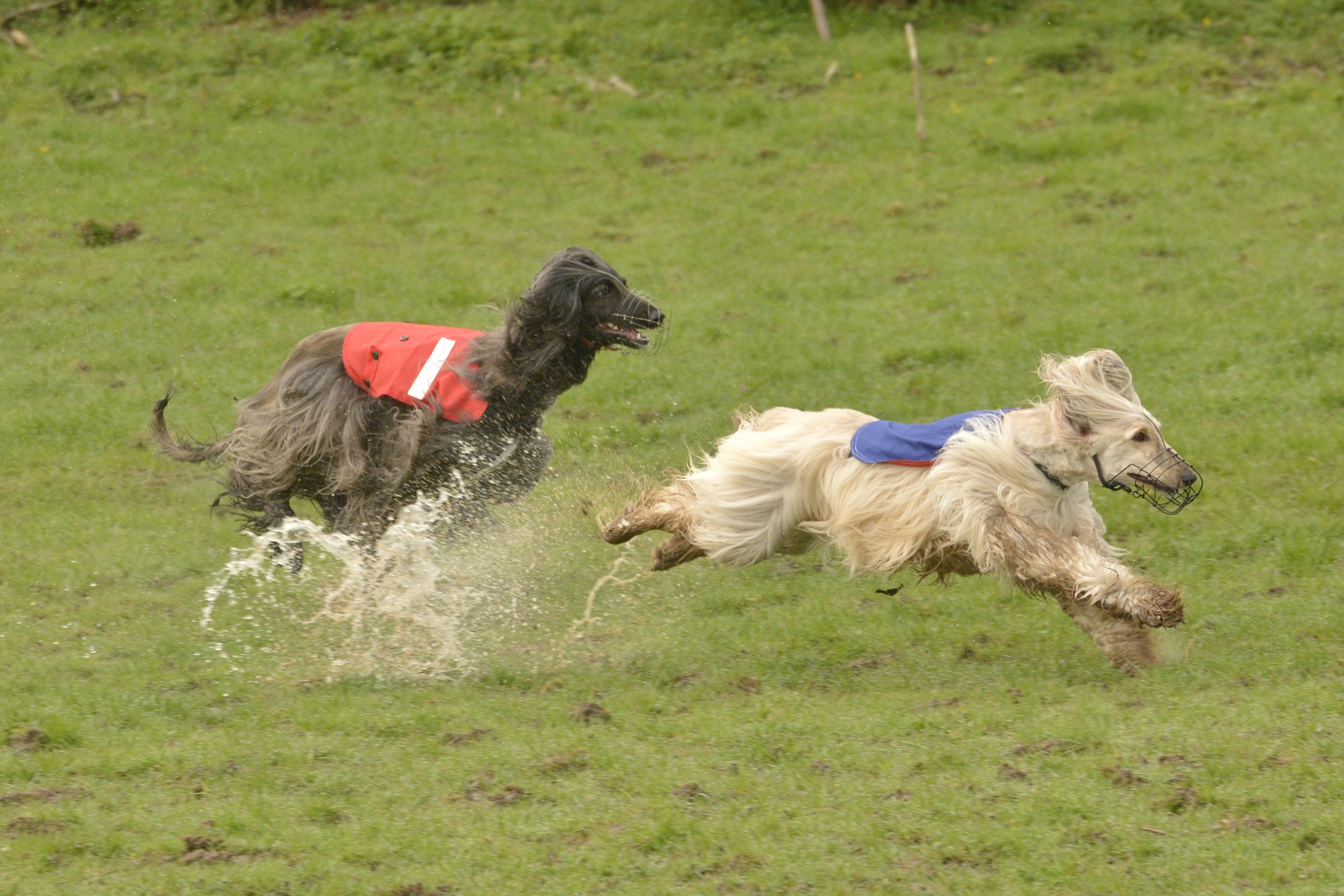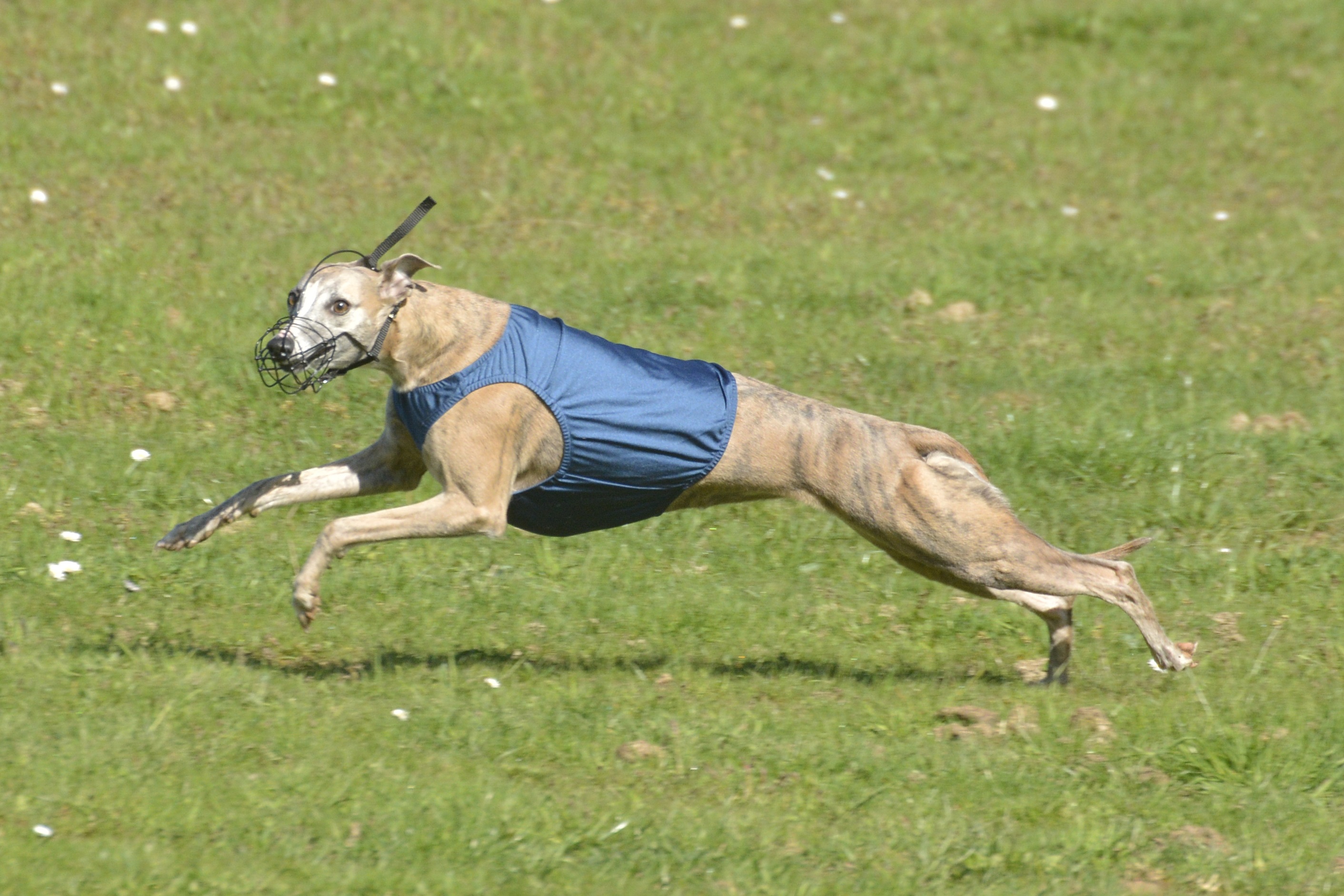 April 07th, 2013
Today first belgian coursing (PVL) in Beringen. A good day for our "coursing team", even we were a little bit disappointed by the final results.
In Afghans, in the first round, Jeriko got an excellent second place, just 1 pt far from the first one. Unfortunately, on the second round, he was opposed to a pure racing dog, and as the course was essentialy made for fast dogs, without technics parts, he lost any chance of finishing in good rank, he is finally 6th/10.
Indhira , still not fit, made 2 medium rounds and finished 8th/10.
Once again the satifaction came from our little Favi. She was 2nd of the first round, 1pt far the first one. But as said above, the course has no technic part, and despite a very good start in the second round, she was immediately "put in the wind" at a good distance of her rival, and she could never make up the lost ground. She finished 3rd of the day/10, but desserved the 2nd place.
March 30th, 2013
Back from our first coursing (PVL) competition of the year in Laferté-sur-Amance (F) and a nice start in the new season for the girls.
Indhira was 4th Exc/5, but Favi, above all, starts the year 2013 as she finished 2012 with a superb second place/11, and RCACP-RCACIL. An excellent result knowing that we did almost no training regarding the bad weather of the last months and that they are both still far from their fit weight.
And as always a weekend in a great atmosphere with friendly staff of Laferté.
Also a big thank to friends there, who helped us through all the "technical troubles" of our rented mobilhome !
March 12th, 2013
The "I" kids are 4 years old !
February 20th, 2013
Sad news. Today Multi Ch. Trouble du Menuel Galopin is gone (16/09/2002-20/02/2013). He gave us our best litter at Abd El Shiraz with 6 incredible puppies became: Multi Ch. IB, IC, IBP Indhira, Multi Ch. Icyana, CAC-CACIB winners Ismaïlia & Indiana, RCACL-RCACIL winner IntaJeriko, & Istaphar. We will never forget him and are very grateful to Martial for allowing us to use him. He was French, International, Finish, Polish, Russian, Swedish, Estonian, Latvian, Norwegian, Nordic, Danish, Luxemburg, Austrian, German, VDH champion. He will be forever a big part of the breed history ♥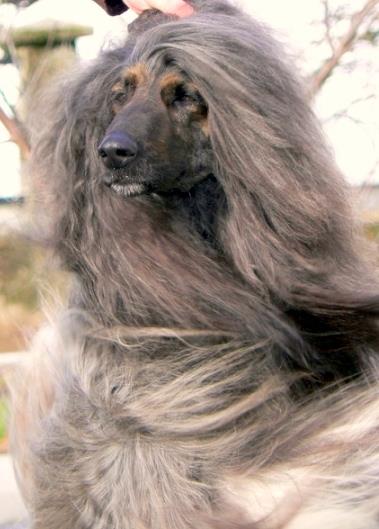 February 16th, 2013
Indhira & Favi at international dog show in Mouscron. See Shows page.
February 08th, 2013
Great new today: Indhira is officially 3 x international champion ! She was already
- International Champion (Beauty),
- International Working Champion (Lure coursing),
and I received today the certificat of
- International Beauty & Performance Champion !
So, Indhira is the first belgian Afghan, and one of the firsts in Europe having won the 3 International titles for sighthounds, and all that before 4 years old !!
January 27th, 2013
Indhira & Favi at national dog show in Mouscron. See Shows page.
January 12th, 2013
Indhira & Favi at national dog show in Genk. See Shows page.